Founded In 2007, Brand Thunder specializes In Creating Highly Interactive Browser Themes That Integrate General Web Browsing Functionality With Custom Content And Tools That Make It Easy To Stay Engaged With Those Who Follow Your Brand. The Company Has Worked With Some Of The Largest Brands In The World To Help Increase Fan Engagement. Clients Include: CBS Sports, Huffington Post, Bob Marley, The Daily Beast, NBA, NHL, NFL, College Humor, And More.
On Average, A Browser Theme User Will Visit A Client's Website 8 Times More During A Given Month Compared To An Average Reader Or Fan Of The Website. This Increase In Engagement And Visits Are Some Of The Main Reasons Big Brands And Small Bloggers Use Browser Themes To Drive Traffic And Even Sell Their Product Or Service.
That's Great, But What Does It Mean To Create Interactive Browser Themes? A Great Example Would Be The theme Created For The News Site The Huffington Post.
This Theme Has A Simple Design That's Easy On The Eyes And Yet Keeps Both The Huffington Post Brand And Content In Front Of Those Using The Theme. According To The Huffington Post, This Theme Yielded Some Impressive Results To The Tune Of An 8x Increase In Site Visits From Those Using The Browser! That Means People Who Read The Huffington Post On Average About 5 Times Per Month Where Now Visiting The Site 40 Times Per Month. Obviously, This Custom Browser Thing Has Its Perks. So How Can You Get In On The Action?
Fortunately For Those Of You Without The Resources Of The Huffington Post, You Don't Have To Hire A Team To Make A Theme Like This For You. You Can Create One Yourself In Minutes With BT:Engage, Brand Thunder's New Browser Theme Tool. Here's How…
Step One:
Go To http://bt-engage.com And Create An Account. Then Decide What Sort Of Theme You Want To Create. For This Theme Tutorial We've Chosen This Site Of Course: TheDesignMag.com
Step Two:
Click – "Create A New Theme"
Step Three:
Select Which Browser You Will Be Designing For. We Will Be Sticking With Firefox But The Steps Should Be Extremely Similar If Not The Same For Both Firefox And Internet Explorer.
Step Four:
Choose A Background. Since We Are Designing A Theme Around The Website www.TheDesignMag.com, We Are Going To Use The Properties Window To Make My Background Brown To Match The Look Of The Site.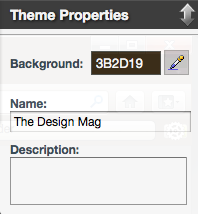 Step Five:
Add Your Logo. First You'll Want To Click On The "My Images" Tab In The Assets Section At The Bottom Of The Page. Next You'll Need To Upload The Logo You're Using From Your Computer. We Simply Went To The TheDesignMag Website, Screen-captured The Logo On The About Page And Uploaded That. Once Your Logo Image Appears In The Assets Area, Click On It And Drag It Over Top Of The Theme You're Creating. When You Release The Mouse Button The Image Will Be Loaded And Placed Automatically. Adjust Image Size According To Your Personal Taste, But Be Sure To Click The "lock Aspect Ratio" Check-box In Your Properties Window So As Not To Mess Up Your Logo's Dimensions While Resizing.
Step Six:
Make Sure To Enter Your Homepage Link For The Logo You Upload So When People Click The Logo Of Your Theme They Will Be Directed To Your Website. In This Case, We Will Enter The Link: Http://TheDesignMag.com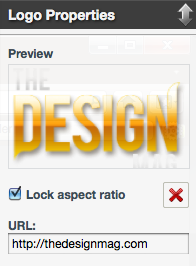 Step Seven:
Choose A Widget That Encourages The Types Of Engagement You'd Like To See From Those Who Will Use This Theme. Since TheDesignMag Has A Feed, We Are Going To Drag The RSS Widget Up And Paste The TheDesignMag RSS Link Into The Properties Window. Be Sure To Click "validate" And Then "save."
We Also Chose Additional Widgets To Help Direct Users To The Homepage, TheDesignMag Twitter Account, And The "articles" Section. This Ensures That Readers Of TheDesignMag Will Have Quick Access To The Most Important Sections Of The Website And Appropriate Social Media Accounts.
Here Is What The Design Mag Theme Ended Up Looking Like.

Step Eight:
Click Finish And Install! Once You've Click The Finish Button At The Top Left Hand Corner, Your Theme Will Be Created And You'll Be Taken To Another Page Where You Can Download And Install Your Theme For Free. You Can Also Share This Page With Others So They Can Use Your Theme As Well. That's It! This Tool Is Extremely Easy To Use And The Entire Process Took Us About 5 Minutes.
Download The Design Mag Browser Theme
Here Is The Theme Download Page For The Design Mag: https://bt-engage.com/themes/hwgkp/The-Design-Mag
Some Other Examples Of Themes Developed By Bloggers And Websites Using This Tool Include:



And Some Other Examples Of Browser Themes:
The Tweet Theme: Twitter In Your Browser:
The Weather Browser Theme: Get Your Local Weather Forecast:
Author Bio:
Mark Subel Is The Distribution Manager For BrandThunder (BT). With Its Extreme Makeovers For Internet Browsers, BT Creates Persistent Engagement Between Major Brands And Their Online Consumers. BrandThunder Specializes In Internet Explorer Themes, Firefox Themes And Chrome Themes. The Business Also Offers A Theme-building Tool, Known As BT:Engage (http://bt-engage.com), That Makes It Simple And Easy For Users To Completely Customize Their Web Browsing Experience By Creating Their Own Theme. Follow Them On Twitter Or Facebook.
Show your love!