There Are Many Ways An Admin Plugin For WordPress Can Help Administrators. WordPress Administrators Often Look For Plugins That Give Them More Capabilities, Save Time, Help Generate Money, And Learn Information. This Article Compiles A Great List That Will Address All These Sought Out Abilities By Many Webmasters.
All The Plugins On This List Are Free. However, Some Plugins May Have Premium Version Or Services Offered, So Check The Author's Website. Some Authors May Be Asking For Donations, So Please Considering Donating To A Extraordinary WordPress Contributor.
1. Knews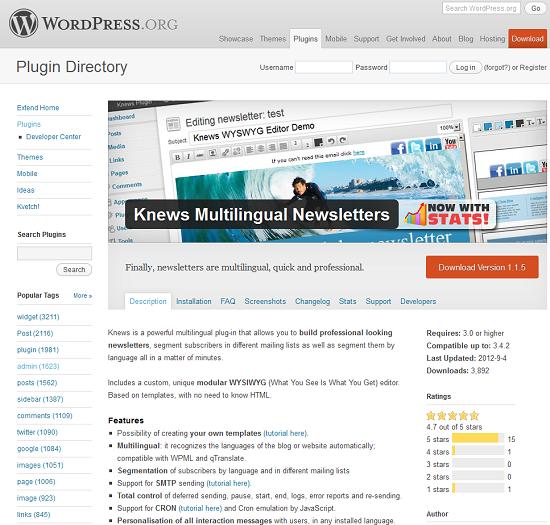 Having A Great Newsletter Plugin May Change Your Mind If You Want To Even Create A Website. In Particular, Social Networking Websites Can Be Very Hard To Maintain. The Knews Plugin Can Help Alleviate Some Of The Burden By Making It Easier To Create Newsletters About Different Affairs Regarding The Community.
2. Mailz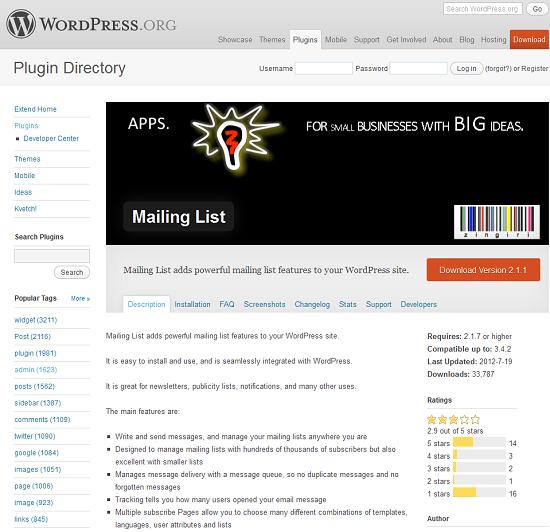 Mailz Is A Very Handy Plugin That Adds A Mailing List With Features Such As Scheduled Sending And Sending Messages That Contains Personalized URLs For Subscribers To Update Their Preferences Or To Unsubscribe. The Plugin Also Keeps Track On How Many Recipients Open The Email Messages.
3. Bad Behavior
Bad Behavior Can Add Administrator's Efforts To Prevent Spam. Bad Behavior Can Prevent Spam By Spammers Or Spambots By Redirecting Them To A 303 Page. This Can Prevent Denial Of Service And Outages. Preventing Spam Would Also Cause Less CPU Usage Which Can Help Boost Website Load Times. If A Website Is Covered With Spam Legitimate Visitors May Think The Website Is Poorly Maintained And Not Return. Preventing Spam Also Increases The Site's Log Accuracy And The Logs Become Less Cluttered.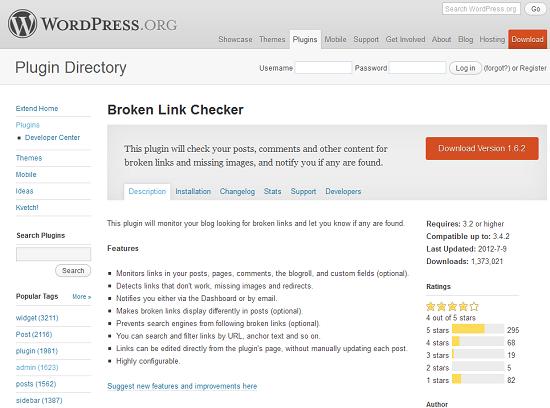 Broken Link Checker Is A Plugin That Monitors Your Blog Look For Broken Links And Pictures And Let You Know If Any Are Found. The Plugin Can Notify Admins By The Dashboard Or By Email. This Plugin Can Be Especially Useful If You Are Migrating Or Updating A WordPress Site Where These Issues Often Arise.
5. Redirection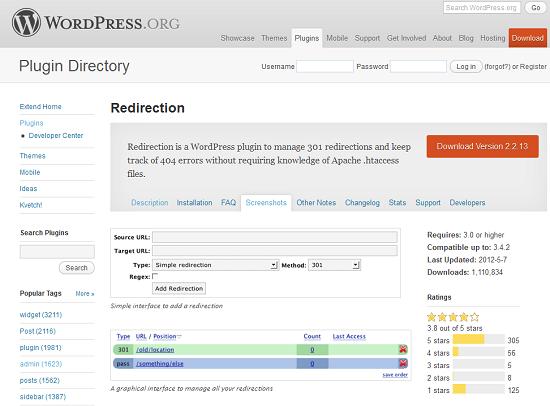 Redirection Greatly Compliments The Broken Link Checker Plugin Because This Plugin Is Also Useful During Migrations And Updates. This Plugin That Gives Admins The Ability To Oversee 404 Page Visits And 301 Redirections, Which Often Occur During Migrations And Updates. Two Other Important Features Is The Ability To Create Custom 'pass-through' Redirections Allowing You To Pass A URL Through To Another Page, File, Or Website And The Plugin Keeps Logs Of All Redirected URLs.
6. Easy Adsense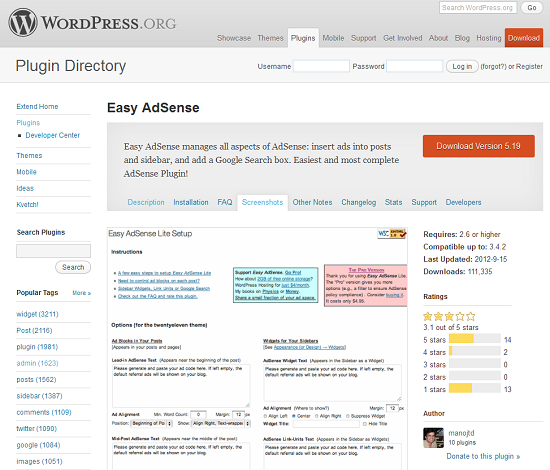 Easy AdSense Gives Terrific Features To Better Utilize Google's AdSense Program.  Easy AdSense Can Help To Position Each Ad On A Post Or Page. It Can Set Certain Pages To Not Have Any Ads Whatsoever. Easy AdSense Can Also Help Maintain The Proper Amount Of Ads And Ad Space On WordPress Websites. This Plugin Essentially Helps Blend Ads Into WordPress To Prevent Them From Being An Eyesore.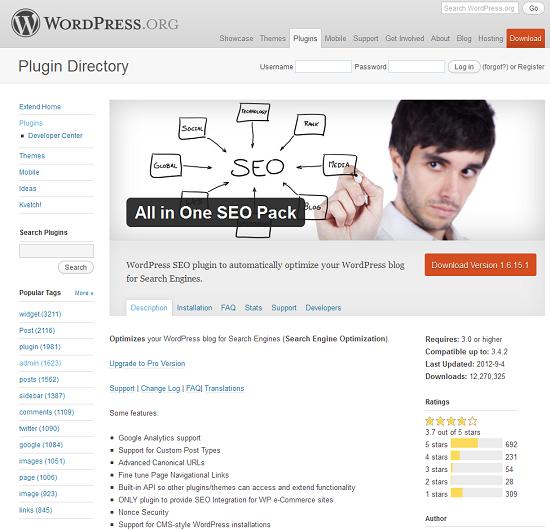 The All In One Seo Pack Is A WordPress SEO (Search Engine Optimization) Plugin Adds Extensive Features To Seeminglessly Improve WordPress Site Rankings For Search Engines. WordPress SEO Achieves This By A Wide Variety Of Features. WordPress Can Generate META Tags Automatically, Give The Ability To Override Any Title, Set Any META Description, Add META Keywords, And To Define Canonical URLs.
8. AdRotate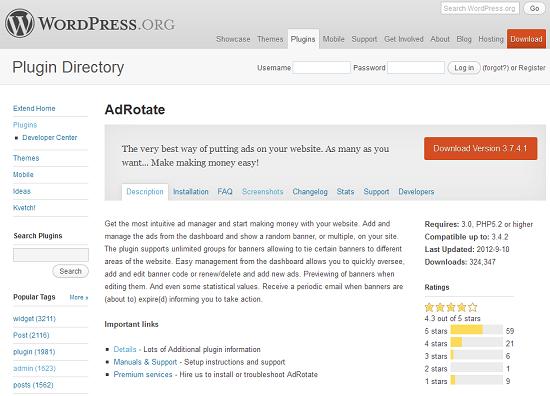 Don't Let The Name Fool You. AdRotate Does Not Merely Rotate Ads For You, But Is A Considerably Powerful Ad Support Plugin. The Author's Website Has Ample Instructions On How To Use This Plugin. The Plugin Can Inform Admins When Ads Will Expire And Give The Ability To Choose Selected Or Random Ads In Pages Or Posts. The Plugin Can Auto Schedule Ads And Disable Ads After Certain Specification, Such As Amount Of Click Or Views.
9. EShop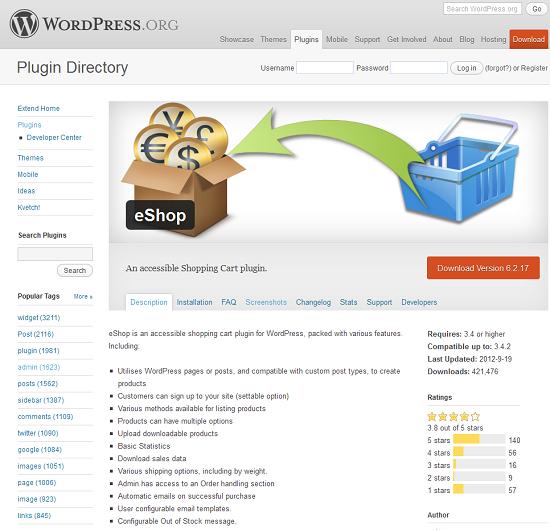 There Are Few Plugins That Can Help Generate Revenue As Much As EShop. This Plugin Creates An Accessible Shopping Cart Plugin For WordPress Websites.  The Plugin Is Packed With Various Features, Including Allowing Customers To Sign Up To Your Site (settable Option), Implement Various Discount Options, Basic Stock Control, And Being Able To Make A Configurable Out-of-stock Message.
10. Google Analytics For WordPress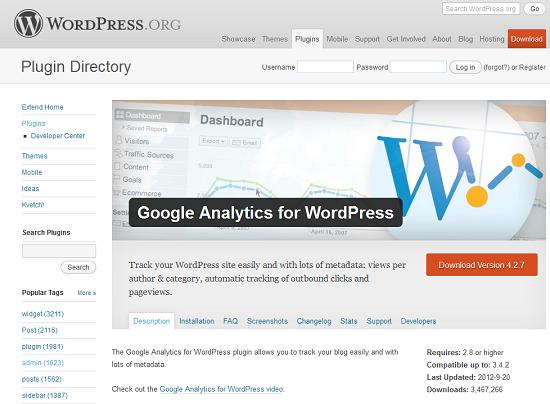 The Google Analytics For WordPress Plugin Allows Admins To Track Website Information And Many Different Types Of Meta Data. There Are Many Features That Would Allow The Website Owner To Know Which Contributors Are Bringing In The Most Visitors. The Plugin Achieves This By Allowing The Admin To See Page Views By Different Variables, Such By Author. The Plugin Also Displays Data Such As Percentage Of New Visitors And Average Time Spent On The Site. This Data Can Help Webmasters Learn If Their Websites Are Gaining Popularity And Growing. Based On This, Webmaster May Abandon Or Continue To Develop The Site.
Show your love!