There Are Many Things To Consider When Deciding On A WordPress Theme, Such As Flexibility, Time Required For Modification, The Audience, The Type Of Website You Want To Create, Compatibility Across Browsers And Operating Systems, Compatibility With Future WordPress Updates, Compatibility With Widgets, Networking Connectivity, And The New Expectations That Visitors Have For Modern 2012 Websites.
Web Design Is Largely A Desktop Activity, So Web Designers Have A Hard Time Remembering Many Website Visitors Are Actually Visiting Via Cell Phone. If You Can Redirect Cell Phone Users To A Cell Phone Friendly Subdomain Or Create A Cell Phone App, That Should Affect Your Decision In Which Theme You Should Implement On WordPress.
The Proliferation Of Cell Phones And Tablets Is An Important Trend To Consider When Deciding On A WordPress Theme. Over A Million Android Devices Are Activated Every Day.
[1] A Recent Study Shows That Phones With Larger Screens Are More Likely To Be Used To Watch Videos And Download Media.
[2] The Iphone 5 Is Planned To Be Released By September 21st And Will Include A Larger Screen.
[3] If You Are Creating A Digital Store, You Would Be Losing Many Of Customers If Your Site Is Not Inviting To Cell Phone Users.
It Is Hard To Comprehend The Trend From Using Desktop To Cell Phones As Everyone's Primary Web Viewing Device. It Is A Total Mindset Change For Designers And Customers. What Makes This Issue Even More Complicated Phones Are Becoming More Powerful. Cell Phone Users Of The Future Will Find Themselves Having The Capability To Have The Desktop Experience. Google,
[4] Microsoft
[5] Ubuntu
[6] All Want To Put A Desktop Operating System On Portable Devices. This Will Cause Smartphone Users To Treat Their Phones As A Portable Mini-pc And A Phone. Users Will Connect To Larger Screens Using Mini-HDMI Or Other Proprietary Cables For A Desktop Experience. Apple Is More Secretive About Their Plans For The Future, But As A Premium Hardware Manufacture, Their Devices Will Have The Hardware To Handle A Full Fledge Desktop Operating System On Their Mobile Devices. So, Is There Any Doubt That Apple Will Cram A Desktop OS On Their Portable Devices?
Remember To Check Out The Theme Homepage To Learn More About The Theme, And Get A Better Understanding Of It Than Using Only The Preview. The Homepage Often Gives A Better Representation Of The Theme And More Information.
Don't Worry About Prices. All The Themes On This List Are Free. However, Some May Have Premium Version With More Features, So Check The Author's Website.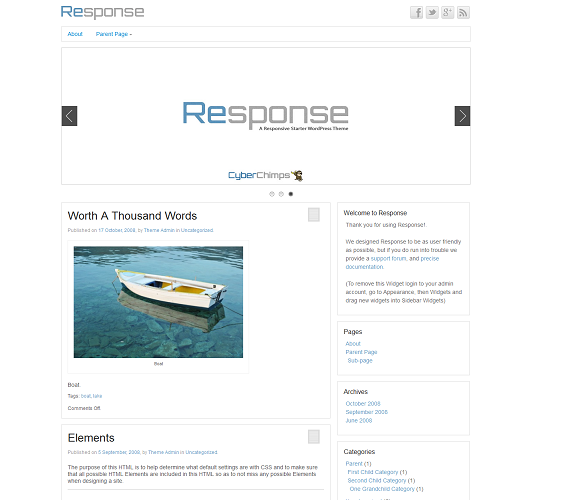 Response Is An Organized Minimalist Theme That Can Be Molded To Almost Anything. The Simple, Yet Classy Interface Is The Epitome Of Modern Designing. Because This Theme Is Devoid Of Many Of The "bells And Whistles" Of Fancier Themes, It Will Be Very Quick For Your Readers To Open Your Blog. Which Makes It The Perfect Starting Point For Any WordPress Newcomer. It Has A Very Clean And Sterile Feel To It.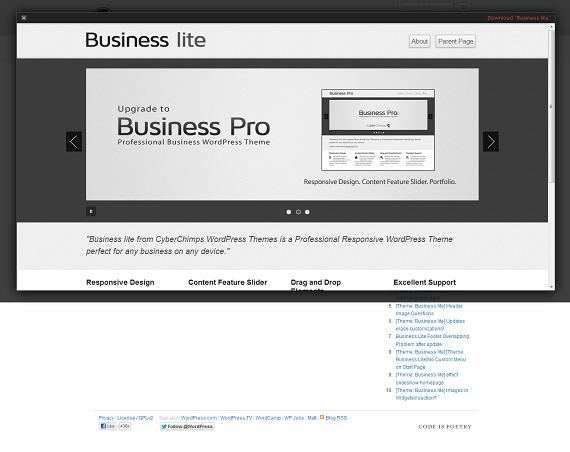 This Theme Is Geared Toward Business, Specifically For A Company's Homepage. Business Lite Has A Corporate And Professional Feel To It. With A Very Basic Two-color Scheme, It Provides Excellent Contrast And Carries A Down-to-business Feel That You Will Love. Business Lite Has A Showcase Focused Orientation That Would Be A Fine Match For Displaying Products.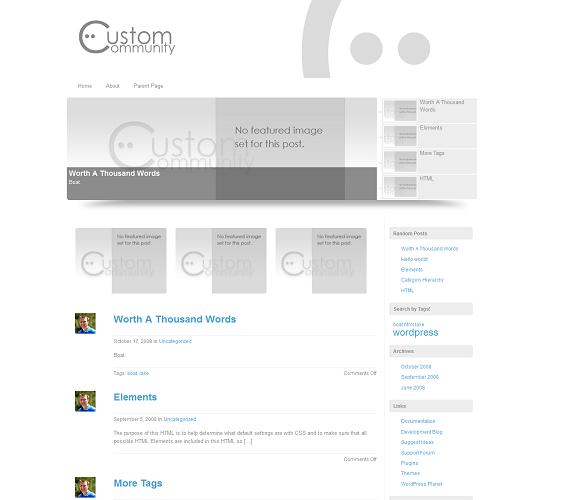 This Is A WordPress Theme Catered To Creating A Small To Medium Social Network. The Theme Has Great Spacing For Extensive Comment Sections And Widgets. Its Light Color Scheme Lends Itself Well To Amateur Bloggers. However, Professionals May Want To Look Elsewhere, Should They Require A More Refined Look.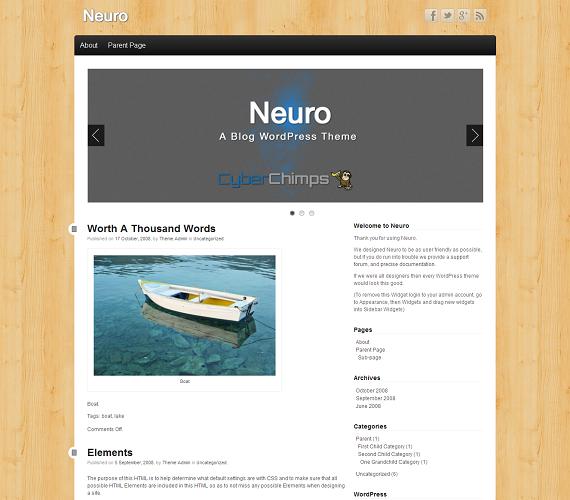 A Professional And Old Fashioned Layout, Neuro Would Be A Magnificent Choice For Making A Website For A Small Workshop Company. Its Stationary Background Has The Ability To Concentrate The User's Attention On Your Text In The Foreground. This Aspect, Allows The Reader To Pay Attention And Absorb Information On Possible Services That Would Be Listed. Neuro Has A Very User Friendly Layout That Is Simple And Straightforward.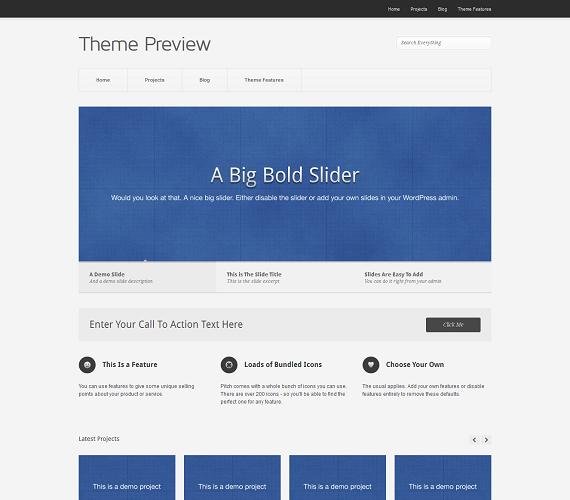 As The Name Suggest, Pitch Would Be Great For Creating Business Pitches Or A Small Business Portfolio. Pitch's Eye-popping And Attractive Style Is Well-suited For The Theme. It Has A Very Energetic And Animated Feel. With A Properly-placed Search Box And Standard Layout, Pitch's Interface Will Be Familiar To Most Users, While At The Same Time Packing The Visual Eye-candy Of Many Paid-for Themes.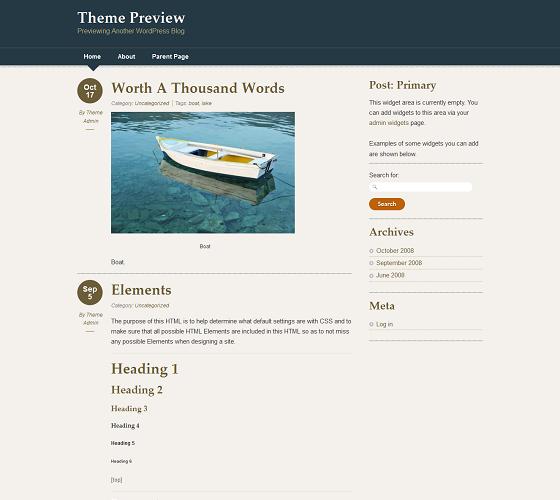 Designfolio Would Be Ideal For A Designer, Engineer, Or Artist That Wishes To Create A Website That Highlights Their Work And Doubles As A Blog. The Look And Feel Of Designfolio Makes It Less Suitable For A Sales-minded Site, And More Geared Towards A Personal Blog To Catalogue Work And History. It Has A Very Intimate And Calm Atmosphere To It. Differentiation Of The Title And Text Body Colors Is Very Attractive And Makes It Easier To Read For Old And Young Audiences Alike.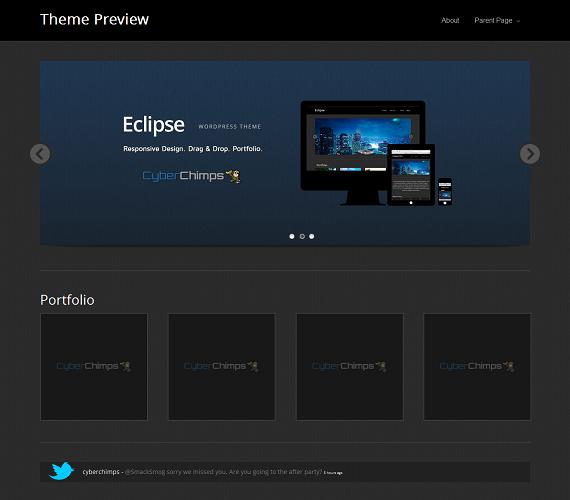 This Theme Would Be Outstanding For A Photographer As It Allows Generous Amounts Of Space For Media. The Combination Of A White Border And Black Background Is A Favorite Choice For Many Seasoned Photographers Because It Provides High Contrast And Looks Sharp.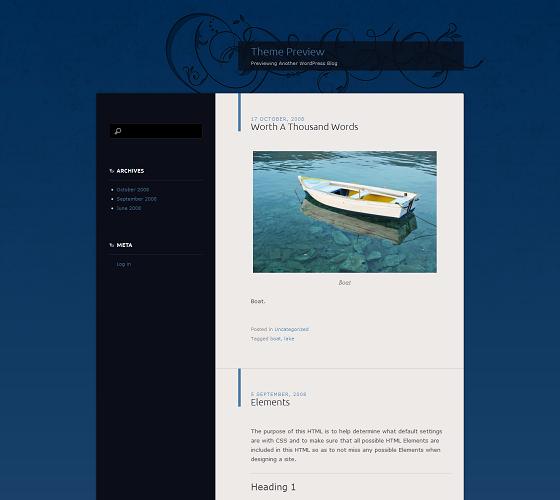 A Quaint And Dark Theme, Dusk To Dawn Combines Organic Ornaments With Modern Design. This Theme Would Be Great For A Personal Online Journal. This Theme Has A Floral Decal Behind The Title. Dusk To Dawn Would Serve To Be A Great Template For Bloggers Who Wish To Write About Nature, Florist Design, And Botany. The White Body Against The Dark Blue Background And The Black Sidebar, Displays A Bold Contrast And A Neat Balancing Of Colors.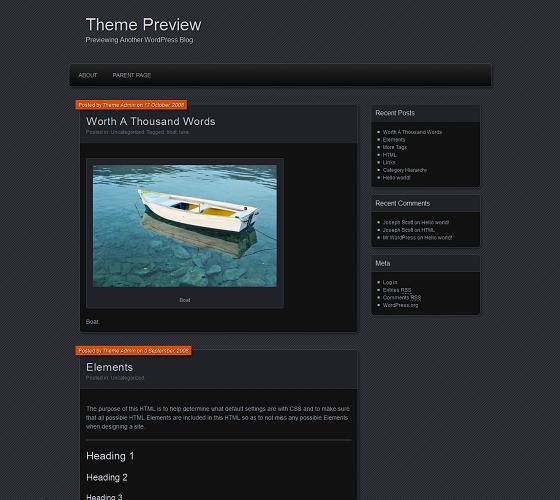 This All-purpose Theme Is Fantastic For Many Types Of Websites. Particularly, This Theme Would Make It Easy To Highlight An Attraction Such As A Park Or Small Event. The Dark Background Is Very Conducive To The Purposes Of An Artist, As It Provides Excellent Contrast And Looks Especially Honed. Bright-colored Date Tags Allow This Theme To Thrive In Situations Where Dates Is Of Utmost Importance.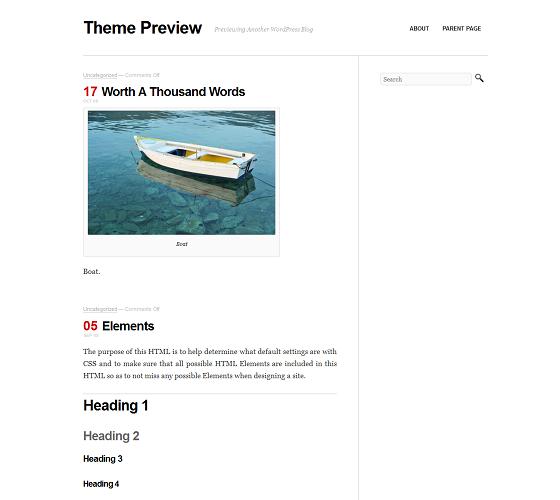 The Prime Element Of Cleanr Is The Succinct Appearance It Gives Off. Cleanr Is A Barebones And Plain Theme That Is Highly Customizable. The Default Color Theme Is Very Clean, Bright, Pleasing, And Fashionable. The Big Text And Typography Allows Even The Most Visually Impaired Consumer To View It With Ease. The Search Box Is In A Very Useful Location, And Will Serve For Quick Acess. Cleanr Is Superb For People Who Don't Have A Whole Lot Of Content To Display But Don't Want To Appear To Be Empty.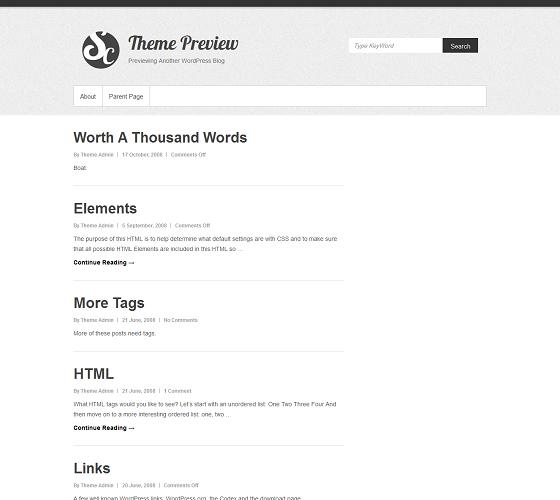 Simple, Organized, And Elegant. Looking For Some Of That Fancy Multi-column Goodness? Sorry, We've Got None Of That Here. For The Most Basic Of Blogs, Look No Further. This One Has None Of The Special Effects Of Some Of It's Cousins, But It Has A Quality All Its Own And Would Work Well For Niche Businesses. Simple Catch Has A Vivacious Feel That Works Well For Such Things As A Milkshake Stand Or Classic Eateries. Simple Catch Can Be Easily Changed To Suit A Wide Array Of Subjects.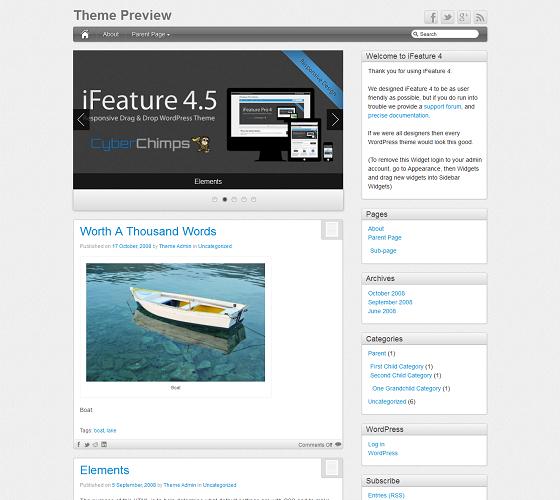 This Is A Theme Tailored Best For Selling Products. The Theme Is Heavily Inspired By Apple With Its Smooth Edges And White And Silver Color Scheme. If Web Designers Want A Young, Slick, And Apple Feel, Then The Ifeature Theme Would Be Perfect. If Web Designers Want To Create A New And Unique Theme, They Should Steer Clear Of Ifeature.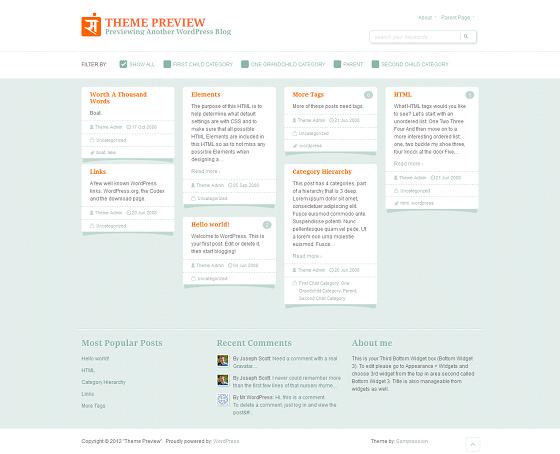 Sampression Lite Has A Extravagant Ultramodern Tech Feeling, But At The Same Time Not Too Overwhelming To First Time Visitors. The Theme Is Very Interactive. Sampression Lite Allows For Filtering And Searching For Articles On The Front Page. The Theme Also Has A Threaded Comment Section Feature, Which Greatly Adds To The Overall Package. Sampression Lite Would Be A Desirable Choice For Creating A Technology News Site Or Blog.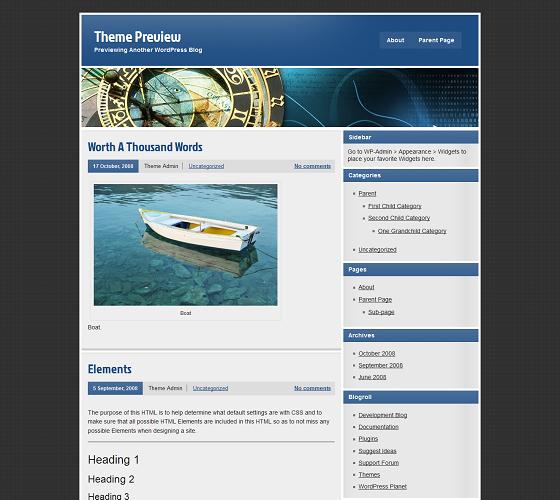 Zeestyle Has A Charming, Welcoming, And Snazzy Looking Appeal. Zeestyle Is Ready To Be Integrated With A Large Number Of Social Networking Widgets Such As Spotify, Tumblr, Facebook, Google+, Xing, And Myspace. Zeestyle Would Also Be Great For A Local Attraction, Tourist Spots, News Site, Magazine, Or Children's Museum.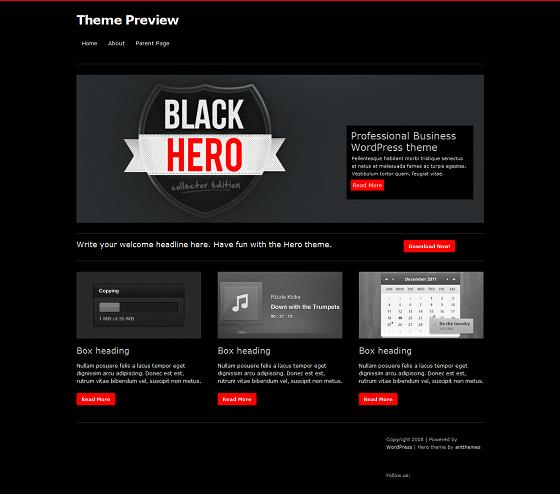 Hero Is A Business Theme With A Lot Of Dark Colors. Hero Would Be A Top-notch Choice To Show Off Products, Such As A Line Of Headphones Or Speakers. The Theme Would Also Serve Nicely For A Band, DJ, Or A Night Club. The Theme Features A Rotating Image Widget That Would Be Fantastic For Portraying A Variety Of Items Or Information.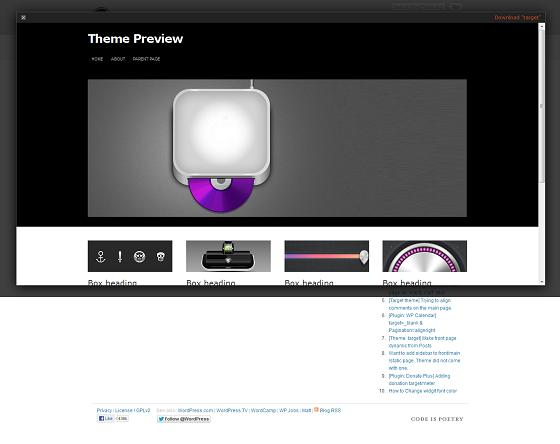 Target Is A Theme Suited Best For Selling Products. Target Has A More Lustrous Design Than Hero. This Would Be Intended For High End Or Premium Products. I Would Rate This Theme Higher Than The Hero Theme Because Target Is More Expandable And Flexible. The Theme Is Equipped With A Quick And Sharp Multi-level Dropdown Menu That Could Be Used To Navigate Through A Wide Range Of Products.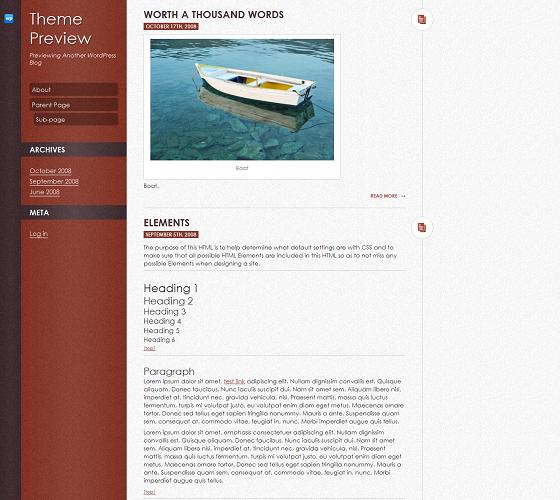 The Daily Post Is A Fantastic And Imaginative Theme. This Theme Would Be Excellent For Creating A Personal Website For Special Interests, Blogging, Or Networking. The Theme Has Remarkable Social Connectivity And Focuses Highly On The Author. The Theme Is Reminiscent Of A Journal Or Notebook, But Can Be Modified For A More Plain Look.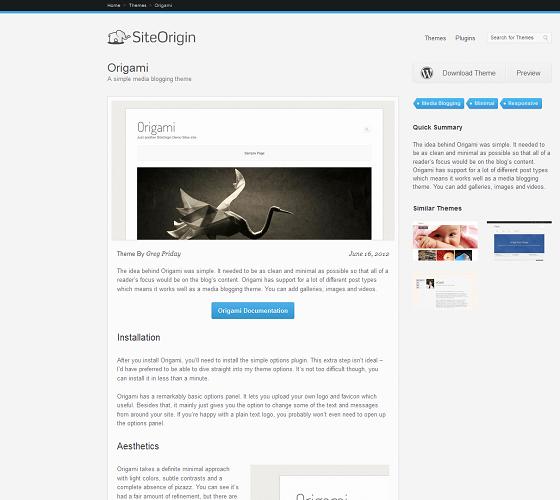 Origami Is A Simple, Artistic, And Responsive Media Blogging Theme That Places Strong Emphasis On Content. This Theme Would Be Perfect For A Small Art Gallery Or Artist Website. The Theme Looks Very Alluring On All Mobile Devices. This Theme Features Scaling Of Videos And Picture Galleries To Fit Small Screens. Origami Allows Users To Emerge Themselves With Objects Being Portrayed, Instead Of Website. This Would Encourage Buyers To Take In The Beauty Of Items And Be Thrilled To Purchased Them.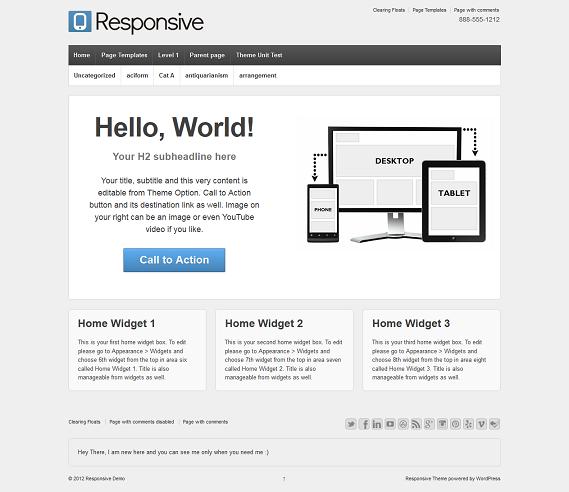 Responsive Is Absolutely Incredible. It Is Very Flexible And Customizable. This Theme Can Be Made To Look Absolutely Mesmerizing On A Cell Phone, Tablet, And Desktop Form Factors. The Structure Of The Layout Changes Depending On The Device Viewing The Website.
The Theme Doesn't Convey An Artist Direction, Which Is Highly Desirable When You Want To Let Your Own Creativity Take Over. You Can Merely Look At The Design And Let Your Imagination Fill In The Blanks. You Can Reuse This Them Over And Over Again Without Users Recognizing It. The Theme Is Very Widget Oriented, So Web Designers Should Already Be Familiar With A Variety Of Widgets Before Using This Theme. This Theme Comes With Icons For Networks Such As Facebook, Youtube, Deviantart, Pinterest, And Vimeo. The Network Icons Fit Nicely With The Overall Tone.
The Theme Is Highly Tested With Over 200,000 Downloads And Is Rated Exceedingly Well. The Theme Was Created By A Very Active WordPress Author. The Author, Emil Uzelac, Is A Regular Poster On The WordPress Forums And Loves To Help Users Who Implement His Themes.
Tags: WordPress, WordPress Themes, Recommended WordPress Themes, Best WordPress Themes, Great WordPress Themes, Create A WordPress Website, Top New WordPress Themes, 2012, Create A Portfolio, Create A Business Website, Create A Personal Website, Future Web Design Trends, Current Web Design Trends, Free WordPress Themes
References:
http://techcrunch.com/2012/09/05/eric-schmidt-there-are-now-1-3-million-android-device-activations-per-day/
http://techcrunch.com/2012/09/03/android-smartphone-sales-led-by-big-screens-are-growing-everywhere-except-in-the-u-s-kantar/
http://www.techradar.com/us/news/phone-and-communications/mobile-phones/apple-iphone-5-coming-to-verizon-at-t-and-sprint-1096675
http://news.cnet.com/8301-30684_3-10402653-265.html
http://www.engadget.com/2012/06/20/windows-phone-8-and-windows-8-share-lots-of-code-nt-kernel/
Show your love!