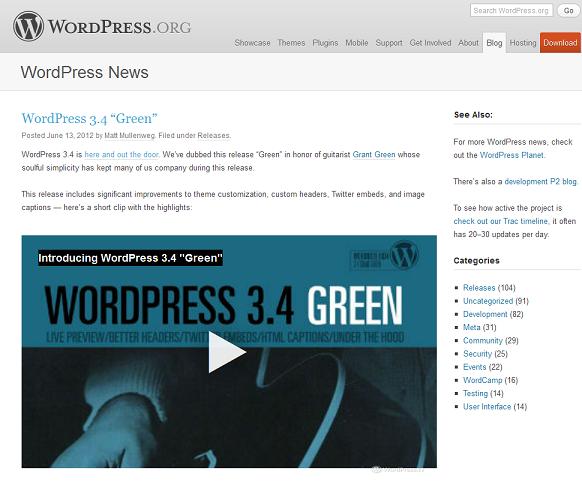 There Are Many Great Features Added To WordPress Version 3.4 That Will Change How Users Interact With Their Websites. In Particular Could Affect WordPress 3.4 Theme Selection And Update Times. Currently 3.4.2 Is Available And WordPress 3.5 Is Currently Being Developed.
WordPress 3.4 Included More Theme Control Abilities Such As Being Able To Customize Theme Elements Before Activating A New Theme Using 'Theme Customizer'. There Is Also A Complementary 'Theme Previewer' To Customize Current Theme Without Changing The Front-end Website. The Theme Previewer Allows Admins To Browse Multiple Pages On The WordPress Site In Real Time Which Gives Valuable Insight To The Overall Look And Feel Of Changes Before The Are Put Into Practice. The Changes That Are Made In The Theme Customizer Allows Admins To See Changes In Real Time, So The Update Does Not Create Prolonged Load Times. Being Able To Preview Changes In Real Time Saves Time And Makes It Easier To Update The Look Of Your Website.
Two Other Features That Will Change The Look Of WordPress Websites Are New Abilities To Affect The Header And Captions. Within The WordPress Dashboard Admins Can Change Sizes And Select Custom Headers And Backgrounds From The Media Library. The Updates Also Brought The Ability To Support HTML Codes In Image Captions.
As Announced By The WordPress Team, WordPress 3.4 Will Continue Efforts To Make WordPress To Be More Internationally Friendly. WordPress 3.4 Has New Upgrades For Non-english Languages Such As Chinese And Arabic. These Language Have Non-standard Commas Which Causes Some Problems With A Variety Of Tags. The Updates Now Features A "tag Delimiter" Which Fixes This Issue. Another Improvement To Make WordPress More Internationally Friendly Is Now Admins Can Set The Timezone And The Start Of Week Can Through Translated Strings Instead Of Only Through PHP. Default Links In WordPress Can Now Be Translated.
Before Applying A WordPress Update Designers Often Wait A Few Days To Let Other Designers Post Capability Issues. With WordPress 3.4 This Will Now Be Less Of A Problem Thanks To The New Theme Previewer Feature. Designers Can Now Experiment And Tweak WordPress Sites Much Easier Than Before. Another Important Issue Is That The WordPress 3.4 Update May Take Away A Big Weakness Of Many WordPress Themes, The Large Time Required To Implement And Test Customizations.
The Update Added A Plethora Of Tweaks Under The Hood That Allow Developers To Help With Advances WordPress Even Further. WordPress 3.4  updated TinyMCE To 3.4.9. It Is Nice To See The WordPress Team Updating The Engine To Use Latest Version Of Complementary Software. Making Sure They Work With Third Parties Adds New Features And Further Cements Their Market Partnerships. There Are Are Numerous Programming Additions, Most Are Very Technical That Don't Concern Most End Users, Such As Being Able To Add A Filter To Wp_terms_checklist() And Clear Strict Notices For The Walkers.
Some Other Tweaks Are; Better Twitter Embedding, New Help Tabs Improvements In The Dashboard, Contextual Help Updates, And Faster Theme Searching. WordPress Has Increased Multisite Usability And Control Through Several New Features, Such As Autocomplete For Add-user Screens, Better Checking For Multisite Upload Limit, And Super Admins Can Now Demote Themselves.
WordPress Has Twitter Plugins And Has Their Own Twitter Account. You Can Follow Them For The Latest News On Updates And Stories On Twitter At, Https://twitter.com/WordPress.
References:
http://wordpress.org/news/2012/06/green/
http://codex.wordpress.org/Changelog/3.4
http://codex.wordpress.org/Version_3.4
http://make.wordpress.org/polyglots/important-changes-for-wordpress-3-4/
Show your love!