40 AdSense Ready WordPress Themes
AdSense ready WordPress themes make your work easier when you want to earn money from the fabulous Google tool AdSense. These themes have been coded and designed in such a manner that they promote your click through rate (CTR). They give you a free hand to manage and monetize your ads so that more people click on them. Of course, you will have to analyze and monitor the performance of the traffic coming to your site but with these themes by our side, it will become easy.
AdSense is a very profitable option for all the bloggers and website owners who have started fresh and do not get heavy traffic. Through it, they can earn a good amount of money and the good part is that the money invested in buying these themes is also not much.
The collection that we have presented below will give you great ideas about the AdSense friendly WordPress themes as it offers 40 such templates that we have shortlisted from different sources.
All of them are efficient and know their work very well. The prices are also compatible with your budget and will bring you sound return. Have a look.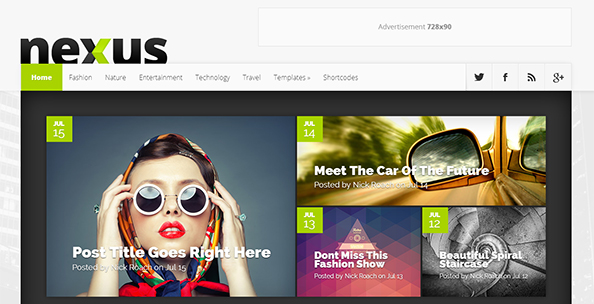 Nexus is a very versatile magazine theme that comes packed with custom widgets and content modules that give you full control over your page. It comes packed with all the requisite features and has got multiple ad ready areas so that you can make the most of AdSense and earn money.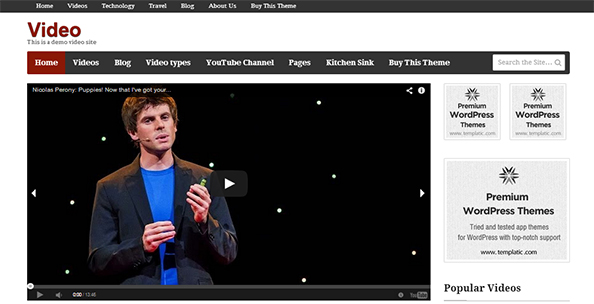 Looking for a lightweight and fully-furnished video theme? Here is Video, a wonderful WordPress theme that also works on making your videos look awesome. The template lets you host your personal videos and you can also share from other video sites.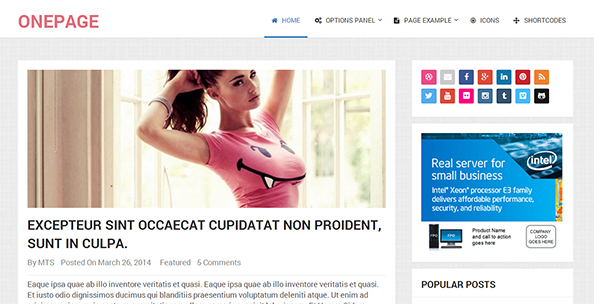 Representing the best WordPress practices and modern qualities, OnePage is a solid single page theme. Its smooth design and top notch functionality make it very competent which leads to a good grip on AdSense and you can earn a good deal of money from this cool Google tool.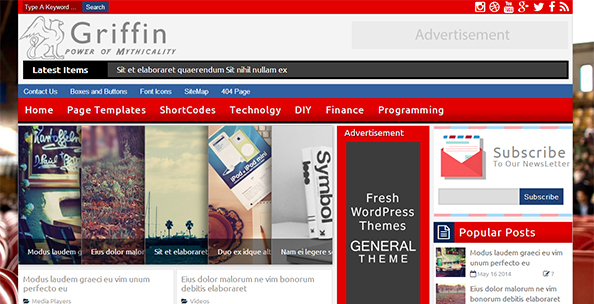 Here is a fresh and super easy WordPress theme that takes minutes to install and performs out of the box. It comes with many classic features but the 5 color presets take the cake. The theme is also customizable and you can mold it to capitalize on the money wielding power of AdSense.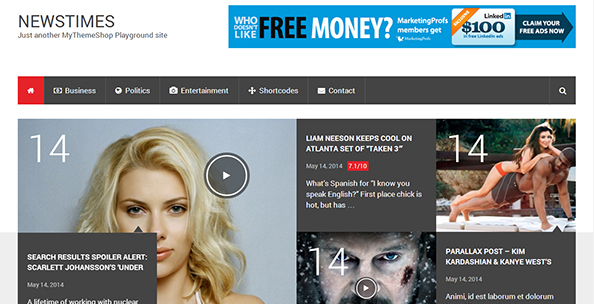 A mine of features, NewsTimes is very pixel perfect, attractively designed and ultra responsive. It offers you built-in review system, hand-written HTML5/CSS3, incredibly fast speed, SEO optimization and much more. The template is also compatible with AdSense and brings you fabulous gains in very less time.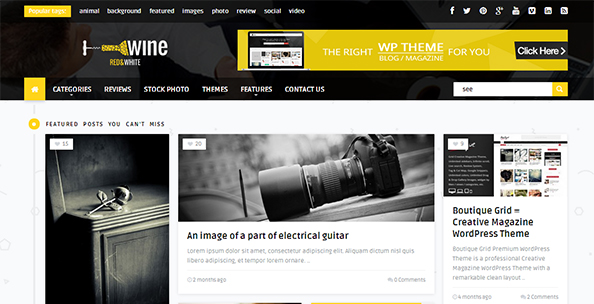 Wine Masonry is a latest Review WordPress News/Magazine theme which is a thorough professional. Loaded with great features and a remarkable clean layout design, this template can help you monetize the power of Google AdSense, without any problem.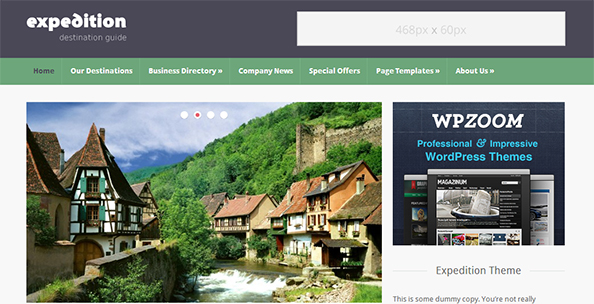 Expedition is a directory theme with cool features and easy customization alternatives. The template is fit for travel agencies, travel and city guides, review websites, etc. It is well-designed and gives you 4 built-in ads banner spots through which you can monetize your site.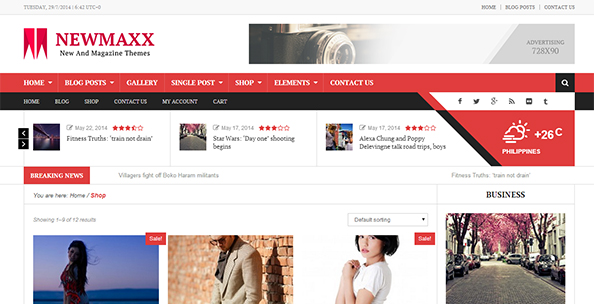 Uncluttered and elegant, here is New Maxx, a magazine theme that is perfect for the online publisher who values the use of different media. It is flexible, feature-rich and all those things through which you can earn name, money and credibility.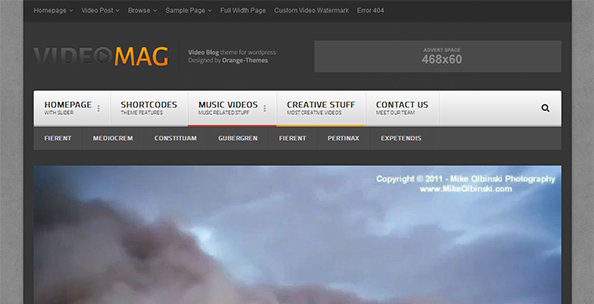 VideoMag is for sites that are based on videos. It is powerful, responsive and customizable, giving you all the freedom to host your videos and share them as well from Vimeo, YouTube, DailyMotion, etc. The template is well-suited for AdSense and brings you a fine deal of money.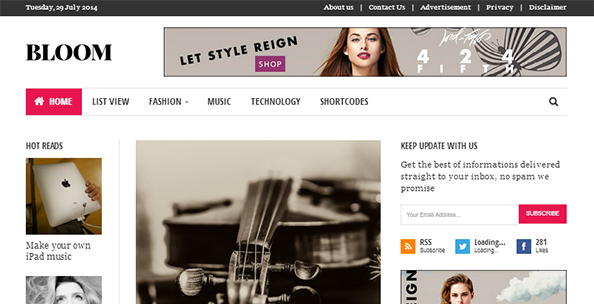 Bloom is a stylish and clean magazine theme which makes use of advanced techniques and gives you great results at a cool price. It is very feature-rich and has got 125×125 banner ads widget and if you want you can also place the ads at different points to increase the CTR (click through rate).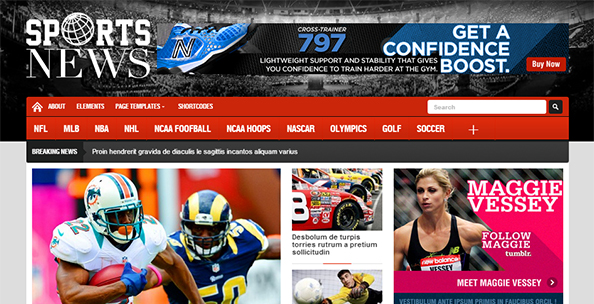 SportNews is a wonderful WordPress theme that suits sport newspapers and magazines to the hilt. It is simple, clean and emphasizes the main content so that no one leaves unimpressed after coming to your platform. The template is also AdSense friendly and thus, increases your click through rate, quite easily.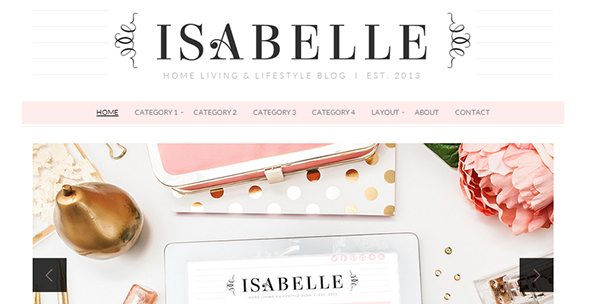 Isabelle is a chic and feminine WordPress theme designed for stylish bloggers. It is very quick at catching attention and makes sure the attention is diverted to ads so that you may mint money through AdSense.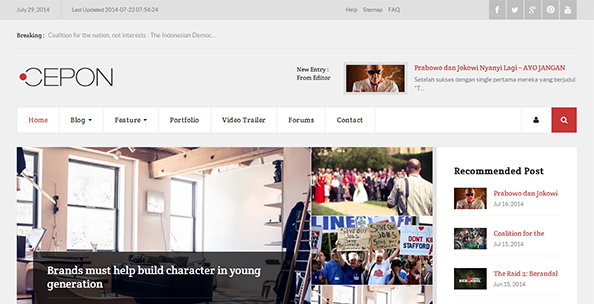 Cepon is a classic theme that can help photographers, writers, graphic designers, bloggers display their work in a stylish and clean manner. It is very latest and comes packed with all the modern features you need to score well with search engines and Google AdSense.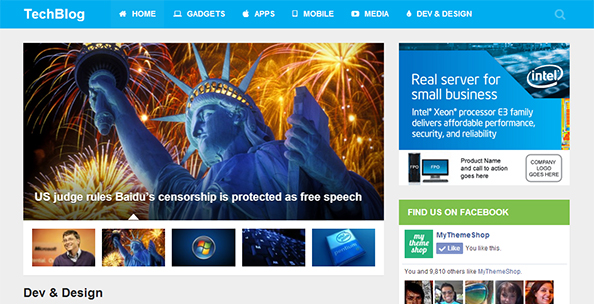 MagXP, from MyThemeShop, is the ultimate Magazine WordPress theme with 4 homepage layouts, unlimited sidebars, responsive design, integrated review system, HTML5/CSS3 readiness and many more things. It is also AdSense optimized and thus, you can easily monetize your magazine site.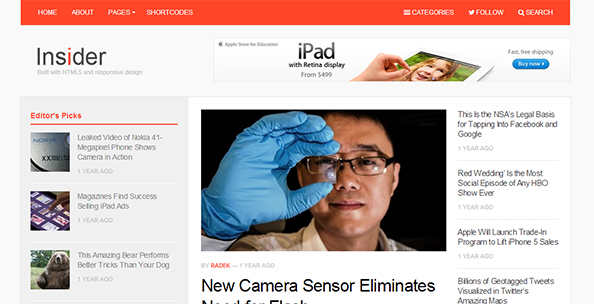 Insider is a modern, fresh and creative theme ideal for Magazines, News and Blog websites. It is loaded with all the good features and offers you cool ad management options where you can place banner images in your sidebar and other places. This is bound to cut ice with Google AdSense.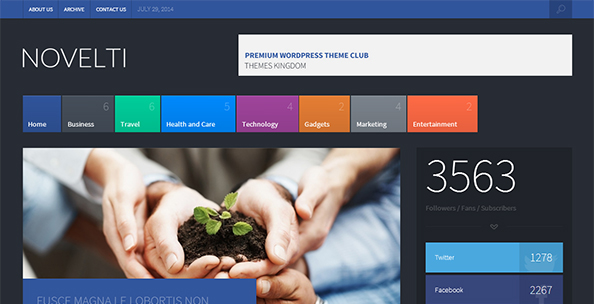 Novelti is a bold News/Magazine WordPress theme that offers awesome usability. It lets you manage advertising banners with great ease and also gives you insights regarding what is working and what is not. This way you are better equipped to monetize Google AdSense.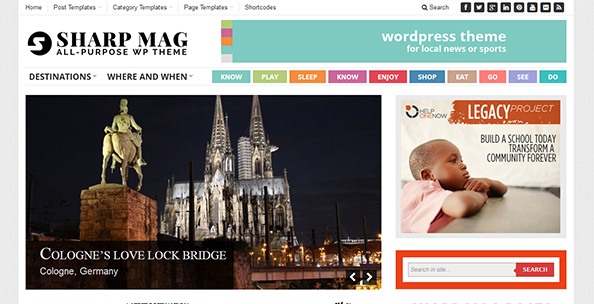 Sharp Magazine is a wonderful WordPress theme featuring a clean design with ample use of white space to allow your content and images to shine. It has an ads module along with category based ad option where you can display different ads for each category. It will easily bring you into the good books of Google AdSense.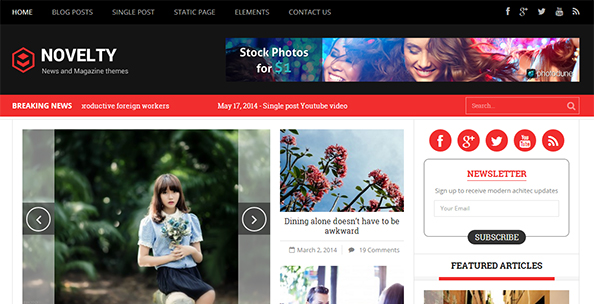 Meet Novelty- a crisp and feature-rich magazine WordPress theme built with HTML5, CSS3, jQuery and many more. It is very precise and believes in giving you the best in all areas including Google AdSense.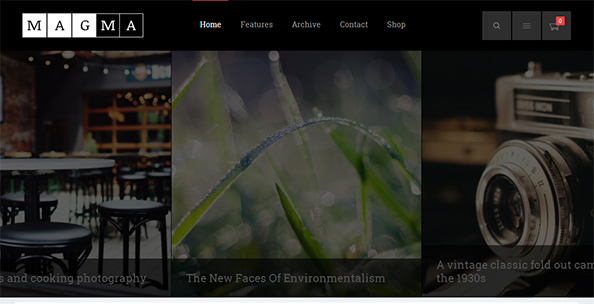 Magma is a modern and elegant Magazine WordPress theme that would make your site super credible and highly functional. The template is very versatile with classic features among which one allows you to manage and monetize your ads in a very efficient manner. This will certainly click with AdSense.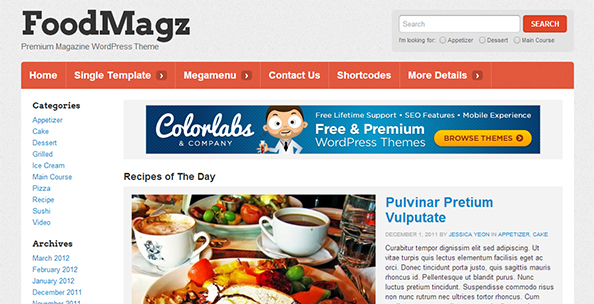 All the foodies out there, here is a competent and cool food magazine theme that goes by the name of FoodMagz. It is very clean with decent white space so that your photos and content are the central focus. The template is a hit with AdSense as well and allows you to make good deal of money.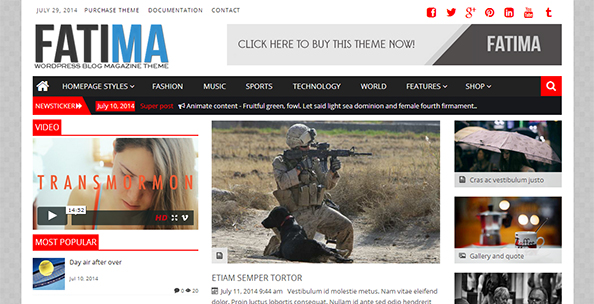 Fatima is a professional WordPress blog/magazine theme with lots of cool features and a good deal of emphasis on awesome typography and readability. It is bound to enhance your traffic which you can easily capitalize to earn money from Google AdSense.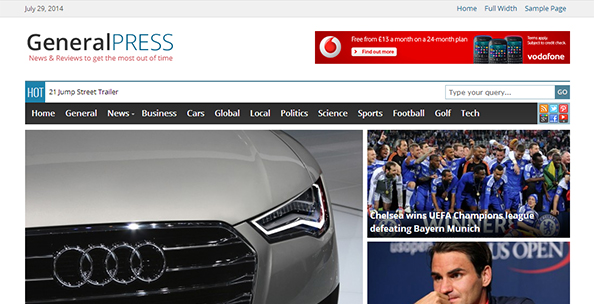 Suitable for any type of blog or website, GeneralPress is a multipurpose WordPress magazine theme with classic colors and fabulous functionality. The template is a powerhouse of features and very much in sync with AdSense which allows your ads to blend with your content, seamlessly.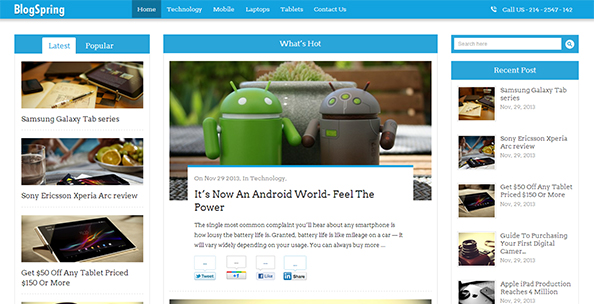 BlogSpring is a fun and exciting way to create your magazine site. The template is a powerhouse of feature and has got everything that is needed to make your web platform socially alive. There is a major offshoot of this element which leads to an increase in traffic and you can turn it into a money making tool, via Google AdSense.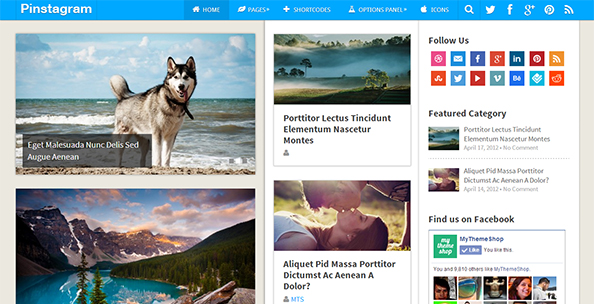 Pinstagram is a Pinterest-inspired WordPress theme with the Midas touch. It is very user friendly and gives you all the freedom to place ads wherever you like so that you can optimize the money making capacity of Google AdSense.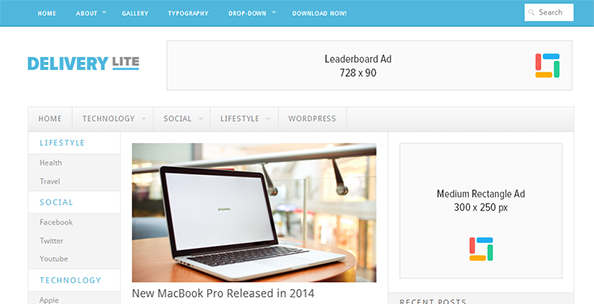 Delivery Lite is a crisp and super easy-to-use WordPress theme with just the right amount of features and customization alternatives. It is also inclined in favor of Google AdSense and gives you all the tools that are needed to monetize it.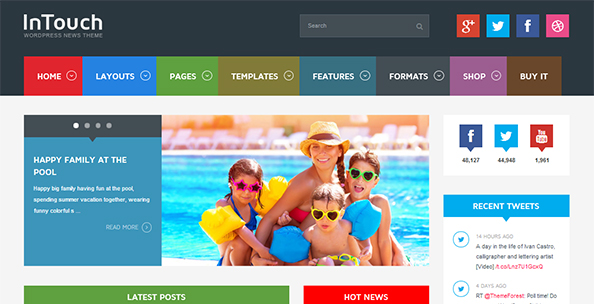 InTouch is a very simple and strong theme that can be configured to focus on your work, your blogging, or both. It is powered by the SMOF Options Panel, which provides tons of options to manage and modify any aspect of the template. You can easily control it and make the template comply to AdSense standards so that you can earn money.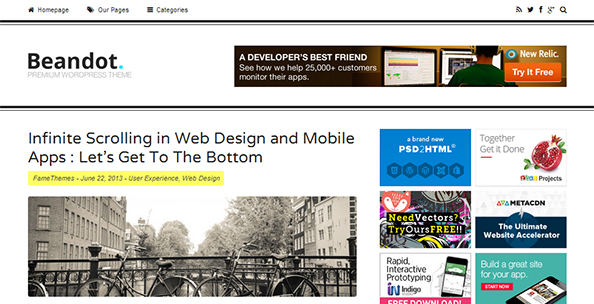 Beandot is a clean, simple, minimalistic blog theme with lots of cool features that display your awesome posts and make them super readable on all viewing devices. It is also AdSense ready and you can use it to make cool amount of money.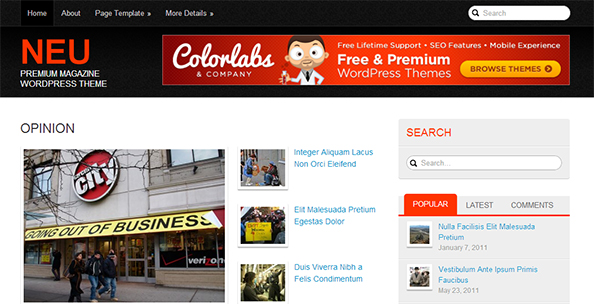 Neu is a super efficient magazine WordPress theme that can handle a great deal of content without creating any feeling of clutter. It is ideal for web publishers who deliver regular topic-centered content. The theme performs well in all departments, including AdSense.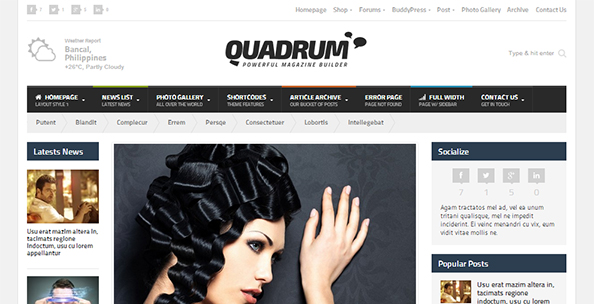 Quadrum is a super rich theme with a goldmine of features and its own Banner system, in which you can add images, text, videos or any other type of HTML code. The template has been designed to bring you fabulous returns, in terms of ranking as well as revenue.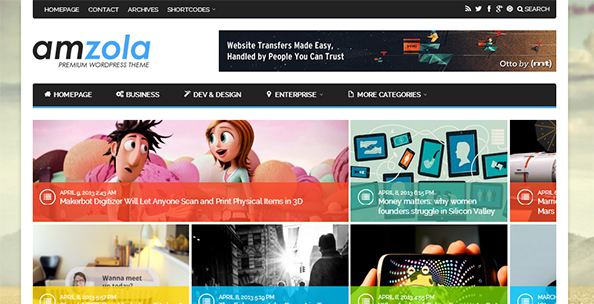 If you are looking for a modern metro UI style WordPress theme that can suit technology magazines, newspapers and blog websites then Amzola would suit you fine. This cool template makes sure you reach out to maximum people and also helps to monetize this widespread viewers' base.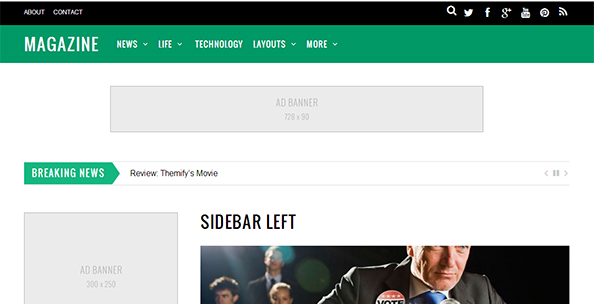 Magazine is marvelous 3-column theme that allows you to build any kind of layout with ease. It is super dynamic and equally flexible. You can easily mold it and manage the ads to make sense to AdSense.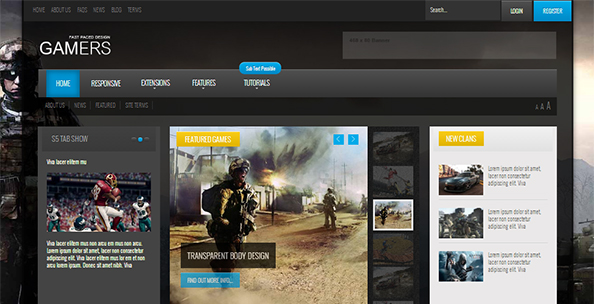 This is a very fast and feature-rich gaming theme that places all the control in your hands. It has got killer looks and is also optimized to get in tune with AdSense which means you can impress your audience and earn without any problem.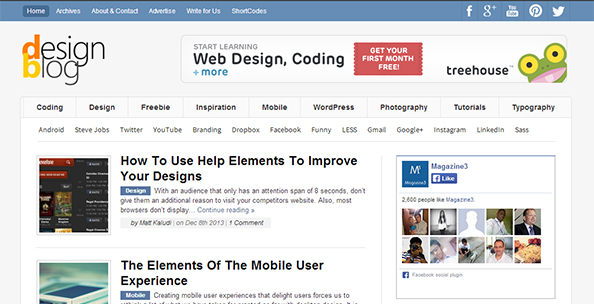 DesignBlog is a neat and stylish blogging theme that is very well crafted and makes your site look perfectly professional. It is ideal for design, development, photography inspiration and tutorial blogs, etc. The template is also AdSense optimized and you can easily capitalize on it.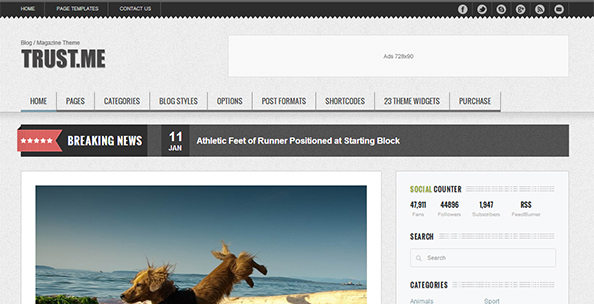 TrustMe is a mobile friendly WordPress theme that best suits Magazines, News and Blog websites. It has got 23 awesome widgets, 18 widget areas, 4 post formats and tons of theme options. It can easily gel with AdSense and bring you lots of money.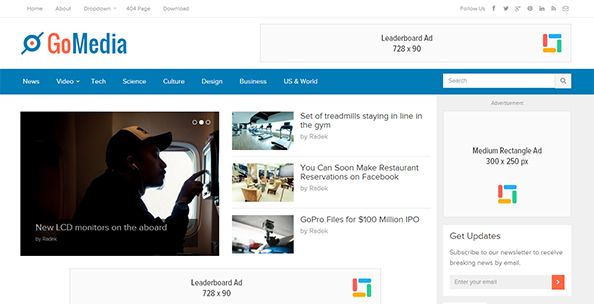 GoMedia is a latest magazine theme with a modern, elegant design and fully responsive layout. It is ideal for online magazines websites, news websites, personal blogs or community blogs. The template has got everything that is needed to do well and also makes sure you find favor with Google AdSense.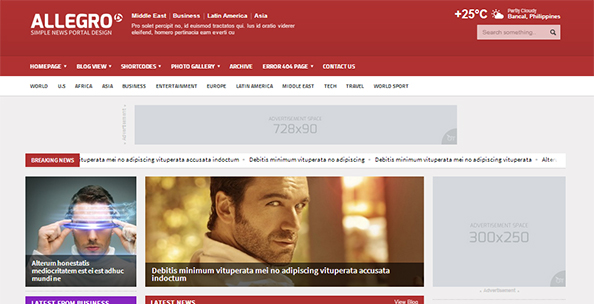 Allegro, from OrangeThemes, is a feature-rich and flexible theme with its own Bannery system, in which you can add images, text, videos or any other type of HTML code. It gives you a free hand to manage the ads and get into the good books of Google AdSense.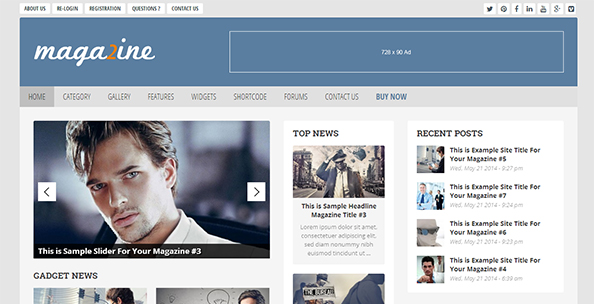 Magazine 2 is a high-octane Magazine Theme with a super professional layout and all those coveted features that make things click. It is a perfect choice for your magazine site, news online, editorial, personal blog magazine, entertainment, etc. The template is also AdSense optimized and leaves no stone unturned to bring you groovy gains.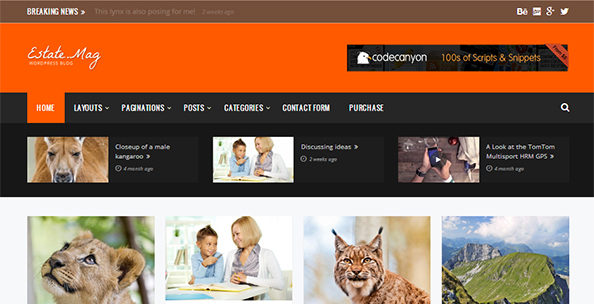 EstateMag, from ColorTheme, comes with a modern responsive design, awesome typography and focus on readability. It can be configured to focus on your blogging, portfolio, etc. Just get it home and watch the magic unfolding before your eyes.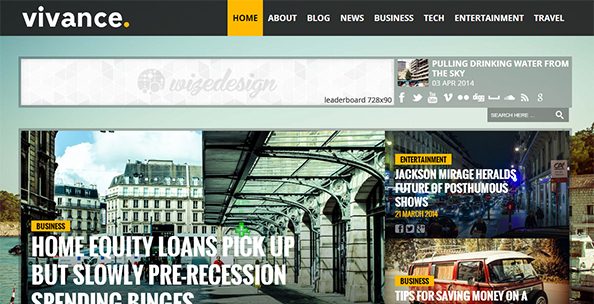 Vivance is a fresh magazine theme loaded with many fabulous features. It lets you create versatile layouts and also infuses your site with top rate functionality. AdSense is a very strong part of this template and you can easily capitalize on it to get the best results.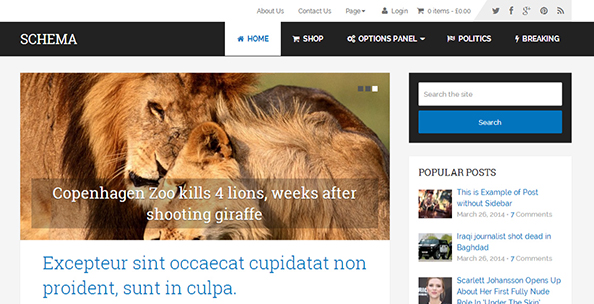 Schema, a latest entry from MyThemeShop, is the fastest loading, ultra-SEO friendly WordPress theme. It has got best features, shortcodes and widgets. You will find it to be a complete proposition and monetize it with great ease.
Sunalini Rana is a working mom, who left her stable career as a human resources manager to pursue her dream of becoming a professional blogger. She's self-taught in web design and photography, and always loves learning new things and helping others along the way. She also has an unhealthy passion for delicious food like pizza and burgers.