What Designers Must Learn From Famous Websites That Lost Their Prominence

Yahoo Is Web Search Engine That Is Still Currently The Second Most Used Search Engine. [1] But Because Of Financial Problems And Design Problems In 2009 Microsoft Made A Deal With Yahoo. Microsoft's Bing Search Engine Will Power The Yahoo Website And Yahoo Will Become The Advertising Sales Team For Microsoft. [2] Designers Need To Examine If They Have The Same Resources As The Competitors To Determine If They Can Keep Up Which Is Why Yahoo Has Largely Sold Out. Yahoo Was A Major Contender For Top Used Search Engine, But Now There Is A Near Google Monopoly On Search Engine Usage. There Are Several Things That Designers Could Have Done To Prevent This.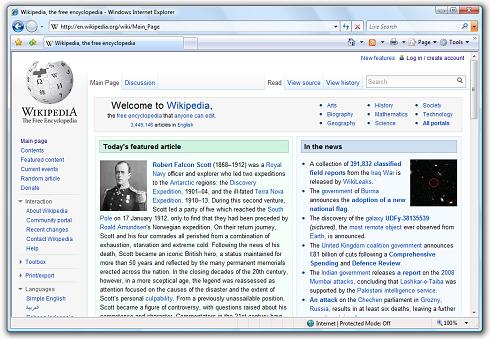 Internet Explorer 7 Introduced A New Search Engine Bar
One Big Reason Why Yahoo Has Lost Its Prominence Is Because Yahoo Lost The Default Search Engine. Microsoft Sets Their Search Engine As The Default Engine On Their Browser On Internet Explorer. Google Does The Same Thing, They Set Their Search Engine As The Default Engine On Google Chrome. The Lesson That Designers Need To Learn Is That If A Website Can Be An Integral Part Of The Internet Browsers Experience The Website Has A Major Advantage. Yahoo Has Tried To Combat This By Supporting Alternative Linux Distributions. Yahoo Is The Default Search Engine In Linux Mint Through Commercial Partnership. The Revenue Generated By Linux Mint Users When Searching And Clicking On Sponsored Links Is Shared Between Yahoo And Linux Mint. [3] Designers Need To Keep In Mind Of Various Default Wars That Is Occuring In Order To Have Websites Stay Relevant. If Designers Can Implement Tools Into The Browser And Have That Function Come As Default In Prominent Browser, Then That Would Give Powerful Network Effects For A Website.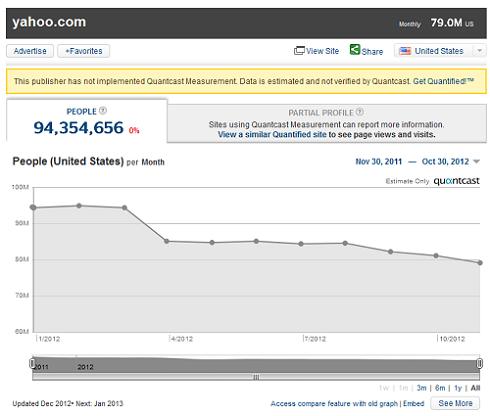 Quantcast Traffic Data Of Yahoo

Myspace Is A Social Networking Service That Was The Most Popular Social Networking Website. In The Case Of Myspace There Is A Clear Competitor That Won Out And Took Major Traffic Away, That Competitor Is Of Course Facebook. In 2012 Myspace Has Visitor Traffic Lost Has Slowed Down Dramatically But The Year Was Still Overall Bad For Myspace. The Designers Of Facebook Have Done A Superb Job In Encapsulating What Is Most Desirable In A Social Network.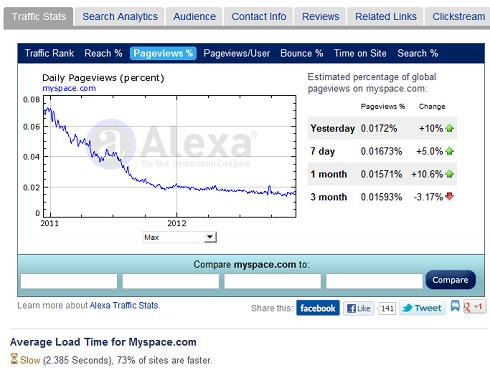 Many Commentators Have Attributed Myspace's Decline To A Lack Of Vision. They Think Of Mypace' Early Success At Merely Being A First Mover Player And A One Trick Pony. [4] Many Look At Social Networks Such As Facebook And Twitter As Innovative. Facebook Overtook Myspace In April 2008 And Has Not Been Able To Keep Ground Since. [5] Facebook Has Been Key To Add Features Such As Acquiring Instagram Because They Payed Close Attention In Giving The Website More Utility. Designers Need To Be Diligent In Coming Up With New Relevant Features To Incorporate That Would Cause Users To Use More Of The Services On The Website.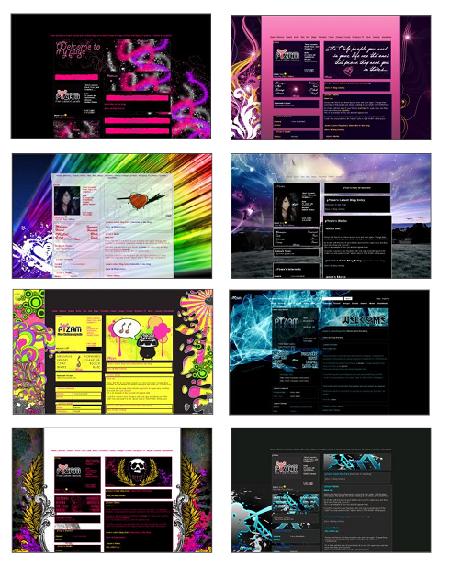 Myspace Layouts
Being A First Mover Has Some Disadvantages. Competitors Can Look At The Ecosystem And Can See Where To Cut Out Guff. An Example Of This Is Myspace Layouts. Facebook Doesn't Feature Extensive Layout Changes. Designers Need To Know That First Movers Have The Disadvantage Of Experimenting In Order To Expand User Base. When New Features Are Added Users Become Attached And Dependent On Features. If A Website Tries To Cut Guff To Refocus Efforts There Will Be Users That Become Angry Over The Loss Of Features. A New Ecosystem Has No Reputation Of Cutting Features And Have The Benefit Of Engineering De Novo. New Ecosystems Are Not As Tightly Bound To Support Legacy Components Which Often Allows For Cleaner And Simple Experience. This Dynamic Also Played A Part In The Chrome Vs Firefox Browser War. [6] Designers Needs To Be Careful Whether Users Will View New Aspects Of The Website As Features Or Bloat.
Myspace Faced A Classic Problem. Myspace Was Still Trying To Be Trendy When They Needed To Become A Facet Of Life. When A New Product Is Launched, The Company Often Wants To Appear Trendy To Impressionable Youth To Gain A Following. But After That Is Achieved It Is Hard To Grow From There. Coca-Cola Has Advertised To Be A Part Of Everyday Life, While Pepsi Has Always Wanted To Appear Youthful And Hip. Facebook Done A Fantastic Job Of Inviting Older Generations Onto The Website. In 2011 Myspace Then Started To Lose The Teenage Demographic, Which Is Often Thought As The Death Nail For The Social Network. [7] [8] Designers Don't Often Think About The Growth Cap Of A Specific Demographic. The Way A Website Is Design Will Dedicate What Kind Of Visitors Will Come To A Website.

Neopets Is A Website That Revolves Around Cute Cartoon Virtual Pets. The Website Was Launched In Late 1999. This Was Before The Era Of Casual Gaming Had Hit Mainstream Though Such Things As Facebook's Farmville And The Nintendo Wii. Neopets Was Thought As An Online Pokemon And Tamagotchi Experience. Designers Lost Track Of Desires Of Visitors And They Rested On Their Laurels.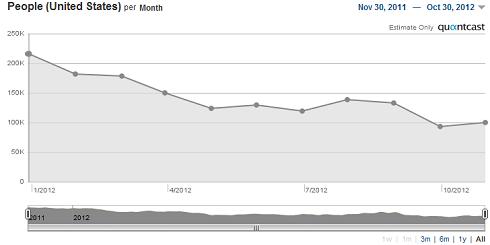 Neopets Started To Lose Visitors During 2007, They Lost 15% Of Their Traffic That Year. [9]
Other Early Signs That Neopets Was Losing Its Relevance Is That In 2008 Neopets Stopped Supporting Italian, Japanese, And Korean. Neopets Have Been On A Slow Decline For A Variety Of Reasons. Neopets Have Not Implement Anything New While Casual Gaming Have Been Innovative At Approaching People In New Ways. The Art Style Began To Look Dated And The Website Never Offered Anything Exciting To Users. The Designers Never Took The Time To Give The Website A New Look. Designers Should Know That The Art Style Should Be As Future Proof As Possible. Neopets Helped Introduce The Pay To Win Model But It Was Copied Everywhere. Unlike Myspace And Yahoo There Isn't A Clear Place Where User Traffic Migrated To, But It Seems Neopets Died From A Million Mosquito Bites. Neopets Died Because Of Many Small Factors That Added Up, Such As Losing To Casual Gaming, Failure To Keep Novelty, Not Appealing To Users As They Grow Up, And To Implement New Content. Users Were Expected They Would Add More Fundamentally New Content But It Never Came. [10][11] Neopets Could Have Became A Near Societal Stable Such As Sesame Street, But Neopets Have Descended To Near Mediocrity. Another Lost Opportunity Is That Neopets Never Became Relevant On Mobile Phones, Although There Are Many Mobile Games That Look And Feel Very Similar To Neopets Such As The Game Dragonvale. Designers Could Have Implemented A Mobile App To Keep That Market.
References:
http://www.alexa.com/topsites
http://news.bbc.co.uk/2/hi/business/8174763.stm
http://www.linuxmint.com/partners.php
http://www.fastcompany.com/1764384/why-did-myspace-fail-are-you-listening-microsoft-yahoo-aol-and-cisco
http://blog.alexa.com/2008/05/facebook-overtakes-myspace_07.html
http://lifehacker.com/5499959/which-browser-should-i-use-firefox-or-chrome
http://www.newsfactor.com/news/Facebook-Traffic-More-Than-Doubles/story.xhtml?story_id=10000BCLMR0W&full_skip=1
http://www.newsfactor.com/news/Facebook-Traffic-More-Than-Doubles/story.xhtml?story_id=10000BCLMR0W&full_skip=1
http://web.archive.org/web/20070913084343/http://www.mediaweek.com/mw/news/cabletv/article_display.jsp?vnu_content_id=1003637077
http://www.neofriends.net/general-chit-chat-f6/neopets-online-user-rate-declining-every-year-t37538.html