5 Rules For Mobile Website Designing To Look Out For In 2015
Around 1.75 billion users worldwide is expected to own and use Smartphones by the end of 2014 (source: eMarketer). And so, businesses that will embrace mobile technology early will reap maximum benefits from the rapidly growing market segment. In nutshell, it is very important for you to ensure that users can access your business easily across all the devices. And thus, your website shouldn't only cater to desktop users, but to Smartphone users as well.
In this post we'll talk about some simple rules that will help you make your website mobile ready for 2015.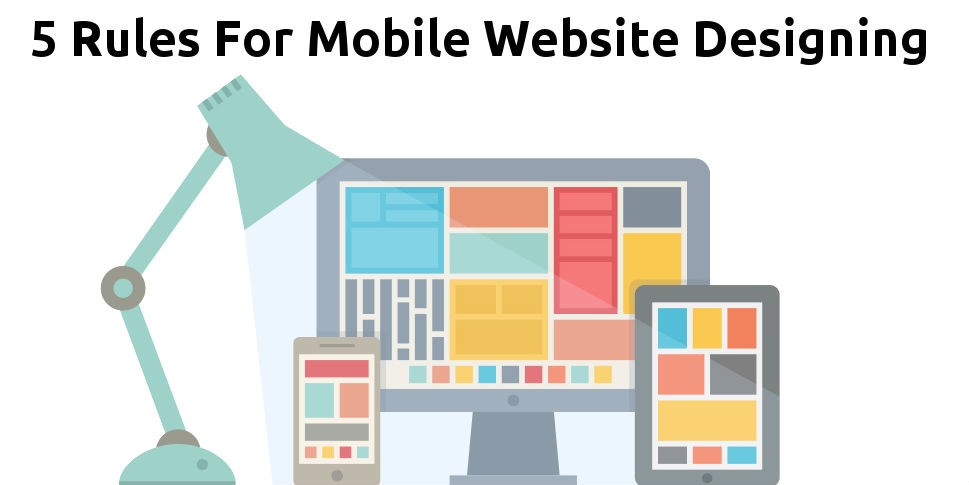 1. Think Ahead And Define Your Mobile For The Future
Website owners now are optimizing and making their site accessible on mobile. However, we're living in a technological era wherein technological advances happen every now and then, especially in mobile web design. Put it simply, new mobile devices are constantly being developed. For instance, Apple's iPhone 5s was released on September 20, 2013, and just a year later iPhone 6 and iPhone 6Plus were released on September 19, 2014. That means you can assume that in the next year from now things can be different.
Considering the pace at which mobile developments take place, thinking about re-designing our complete site won't be a good solution. Instead, we need to think ahead and build something that could evolve, in a year or more. Thus, define your objectives for mobile website design now and for the future as well.
2. Better Accessibility
Most of the mobile sites usually have different functionality compared to a desktop enabled site. Therefore, it is imperative to figure out what exactly your visitors are seeking for when visiting the site. And make sure that all the things that your users want are placed prominently on each page of your mobile site.
For example, If you're running an e-store, then be sure that your product information, images, order details and your contact information can be accessed and navigated easily.
3. Better Touch Screen Experience
Make sure to provide a seamless experience to users, when converting your desktop enabled site to a mobile version. And thus, it is important to ensure that your visitors can access everything – with a single tap with the finger – when accessing your mobile website. This means that you need to provide smooth navigation experience for users – which requires incorporating larger buttons and easy to access links – that can be tapped easily with a finger.
Additionally, remember to leave a good amount of white space around the buttons and links.
4. Keep The Mobile Web Design Clean and Uncluttered
Keep in mind, when designing a mobile web design, your main objective should not be to help your visitors navigate everything on the site easily. And so, don't unnecessarily stuff your site with high-end graphics. This will only make your website look messy and difficult to navigate for the users. That's why make sure to plan out a clean web design that incorporate only essential elements.
Keep the mobile website design simple and clean. But it doesn't mean that your site site becomes too generic. It's also important to maintain a certain distinction in your site – while keeping your mobile website design – elegant and simple.
5. Choose Single Column Layouts
You'll get plenty of layout options when designing a web design for the desktop users, however, in case of mobile you only get one option for keeping your design easy to navigate. Even though, Smartphones have big screens too, but still it can be pretty annoying to navigate through multiple columns for looking out for the things on the site. And thus, it is better to opt for single column layouts when designing a mobile website design.
Wrapping Up!
As we all know, the number of mobile users are growing constantly. In fact, according to some online reports, the percentage of users who'll use Smartphones will increase more than 25 percent than 2013. And so, a company seeking to make a prominent position online must cater to the ever-increasing mobile users' needs. That's why, making a website mobile optimized should be the top priority for site owners. Lastly, make sure to provide mobile users with as seamless navigation experience as possible.
If you're planning on designing a mobile website, then hopefully the aforementioned list of rules will help you get optimal results.
Addison Cohen is an iPhone application developer working with Appsted – iPhone App Development Company. He loves sharing latest information on mobile technologies like iOS, Android development processes.