5 Ways Web Designers Can Benefit From HTML5 Website Builders
When They First Arrived On The Scene, Website Builders Changed The Face Of The Internet By Allowing Everyday People With No Knowledge Of Design Or Programming To Create A Website. Web And Graphic Designers Considered These Free Website Builders The Bane Of Their Existence. Not Only Were These Site Creators Stepping On Their Turf, But They Were Populating The Web With Ugly Websites Or Flash Sites That Google Couldn't Read. Anyone Could Instantly Pick Out Sites Created By A Website Builder Because They All Looked Alike And Didn't Function Properly. In Short, They Were Giving Professional Designers A Bad Name.
All That Has Changed, Thanks To HTML5. Today, Web Designers Are Partnering With HTML5 Website Builders To Better Serve Their Clients. As The First HTML5 Website Builder, Imcreator.com, Enables Designers To Provide A Better Solution For Their Clients And Boost Their Revenue Without Compromising Their Creativity Or Giving Up Control Over The Project.
Web Designers Who Have Been Using IM-Creator Within The Past Year Identified These Five Significant Benefits HTML5 Website Builders Provide To Professional Designers:
1. Free Design And Build Tools – The Most Significant Is A Drag And Drop HTML5 Editor That Ensures Maximum Design Creativity. Complementing The Online Editor Are The Latest Technologies, Such As JQuery That Makes The Final Website Design Compatible With Any Age Browser, PCs, Macs And Mobile Devices. The Toolbox Also Includes Flexible And Editable Objects, Including Contact Forms, Video Players, Slideshows And Image Galleries.
2. Free Design Templates – Web Designers Have The Option Of Using A Ready-made Template, Creating A New Design From A Blank Template And Tailoring It To Meet Their Clients' Needs, Or Using The Pre-designed Templates As Inspiration For Their Layout And Design. Many HTML Website Design Builders Have Very Professional And Sophisticated Design Templates That Were Created By Professional Designers And Are Available Free Of Charge. The Templates Are Typically Categorized By Industry Or Profession To Minimize Search Time. Here Are Some Examples Of The Pre-designed Website Templates Available In The Imcreator.com Design Catalog:
This Ready-made Design Template Can Be Used For A Client With A Restaurant, Café Or Food-related Business.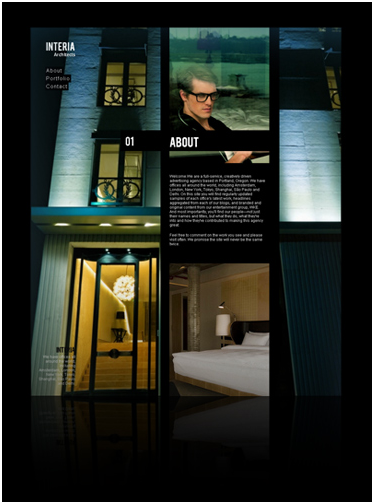 This Design Template Is Ready To Modify For A Real Estate Client.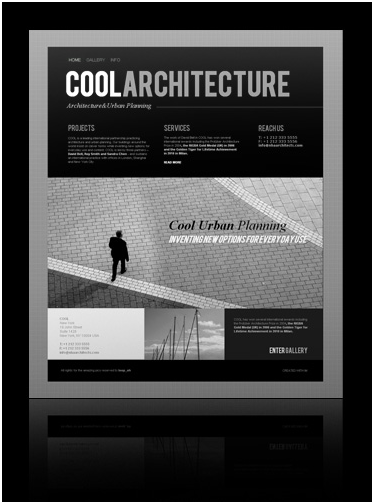 This Pre-designed Template Was Created For Businesses In The Architectural Industry.
3. Increases Income – Using An HTML5 Website Builder Increases A Designer's Income In Three Ways. Firstly, The Design Tools Enable Web Designers To Work Faster So They Can Complete Projects Quicker And Take On More Clients. Secondly, Programming And HTML Coding Is Included Free Of Charge As Part Of The Website Builder's Services, So Designers Save By Not Having To Hire Developers. Thirdly, Web Designers Can Save On Hosting And Domain Costs By Having The Website Builder Host Their Clients' Websites, Connect Them To A Domain And Provide Customized Email Services.
4. Better Serve Client Needs – Web Designer Clients Have Different Requirements And Needs, So A Website Builder Gives Them The Versatility They Need. In Addition To Their Flexible Tools And Designs, Site Builders Also Allow Designers To Provide Their Clients With The Option Of Updating Or Changing The Content Of Their Site Themselves Using The Website Builder's Integrated CMS Interface.
5. Earn Income From Designs – Some Site Builders, IM-Creator Among Them, Invite Professional Designers To Submit Their Website Designs For Inclusion In Their Ready-made Design Template Catalog. Each Time Their Template Is Selected, They Earn A Commission.
While Free Site Creators Still Provide Everyday People With A No Cost Option To Building A Website, Website Builders Have Recognized The Value Professional Designers Can Bring To Their Service. By Working Together, Site Builders And Designers Can Offer Clients A Unique And Enhanced Website That Looks Great And Functions Properly At A More Affordable Price.
Authors Bio: Erez Zundy Is A Professional Web Designer That Is Using Website Builders To Provide Beautiful Websites To His Clients. During His 6 Years In The Website Builders Industry He Gained A Lot Of Knowledge And Was Able To Help Other People Build A Website For Free Google+