The Pathway of success for an App Developer
With the sphere of usage of mobile apps expanding into sectors which never even knew what an app is a few years back, the demand has gone up for new app developers. The fact is that the industry needs app developers more than they might need the industry. More and more youngsters are eager to enrol themselves for app development courses being offered by universities and colleges. Now even a full time professional degree B.Tech. In Mobile application development is on offer. The industry is seeing a massive growth rate which was unimaginable a few years back. But this is the beauty of technology that it never ceases to amaze us.
But another fact while choosing a career as a mobile phone application developer is that although the demand is high, but it is high only for talented developers, for today's industry cannot handle mediocrity and just good enough standards. For an app developer to really make it big he should have the necessary skills and rare talent. Being educated and just being able to code in a language does not mean that a developer is good. There are certain aspects and areas which a successful app developer must work on to make it big in the industry. Let us discuss a few such things which can show an app developer the correct pathway to success.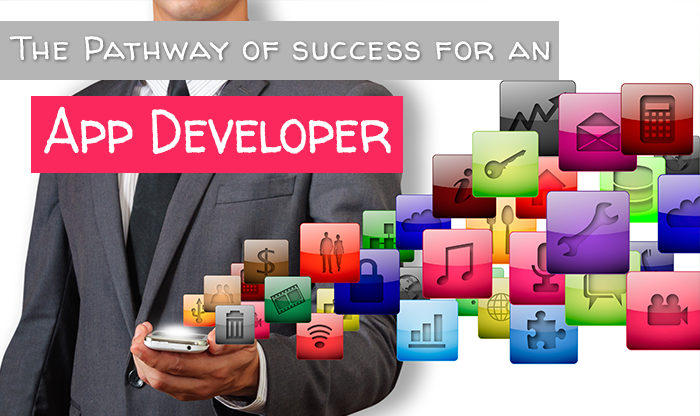 Adding that extra UX to your app
UX is the ultimate thing that a user looks for in an app. If a user is not pleased with the experience of using the app then you must know that your days as an app developer are numbered. Concentrating on the functionality of the app is also important but user experience should also be considered with equal importance. A good looking UI and easy navigation are the two key elements which enhance user experience.
Don't stack it with too many features
Over excited app developers sometimes go overboard and overload their app by going for as many features as possible. This practice should be always avoided as adding too many features slows down the app speed and increases the loading time. Lighter apps with limited features tend to do much better. A user generally downloads and installs an app for limited and specific functionality, he is too happy with just a couple of functions which work well for him rather than 12 or 10 features which he might not even require otherwise.
Security related issues
Maintaining the data integrity and protecting the sensitive information of the user is the prime most responsibility of an app developer. A lot of sensitive information like credit card details are stored and exchanged by apps on the internet. Leakage of any such vital information could be detrimental for the user as well as the developer.
Think as a user first
It is important for an app developer to think like a user first and not as a developer while creating the app. It is important to understand the psyche of the user to address to his areas of concern regarding an app. By choosing the target audience and determining as to what will be ideal for them with regards to functionality and design features is a great idea.
Testing
Testing is the last but an important phase of an app's development. At times bowing down under pressure from clients to rush with the release of the app, developers ignore testing. Testing determines whether the app has any bugs or technical glitches. Testing becomes even more relevant with mobile apps as they have to perform optimally on a number of device types with different screen sizes and different configurations.
If an app developer keeps these things in mind while developing his app then the sky is the limit for his career to take off or else surviving in this industry could prove difficult.
Author Bio:
Macy Jones is a keen iPhone app developer who is always on the lookout for new innovations in iPhone app development. She makes it a point to stay a step ahead of the competition always. To catch up with her connect with her on Facebook or Twitter.