Awesome Blog Design Inspirations
Blog Is A Web Journal. Blog Is Used As An Avenue To Publish Your Own Articles. Blogs With Original Unique Designs Draw More Attention. Blogs Have Become A Very Common Feature Now A Days. Every Individual, Every Business Has A Blog Today. It Is A Excellent Medium Of Communicating And Keeping In Touch With Your Customers, Family And Friends. Blog Are Interactive And Can Help Build Good Customer Relations.
The Overall Color Matching, The Typography, Attractive Logo, Proper Text And Paragraph Alignment, Clear Navigation, Etc Play A Key Role In Creating A Impressive Blog. They Should Be With Great Interface, Graphically Beautiful, Unique Personalities And Styles.
A Well Designed And Strategically Planned Blog Provides An Advantage For You In Differentiating From Your Competitors And Stamping You With An Unique Identity. Search Engines Tend To Visit Blogs Faster And More Frequently Than Regular Websites.
Custom Built Blog Designed According To Your Specific Needs And Goals, And Brand Personality Will Ensure That Your Blog Acts As A Distinguishing Feature.
We Present Some Beautiful, Creative, And Inspiring Blog Designs. Many Of Them Are Little Heavy On Graphics. There Are Many Styles And Designs That May Inspire Your Next Design. They Became Unique By Giving Their Attention To Small Details.
Duirwaigh Studios: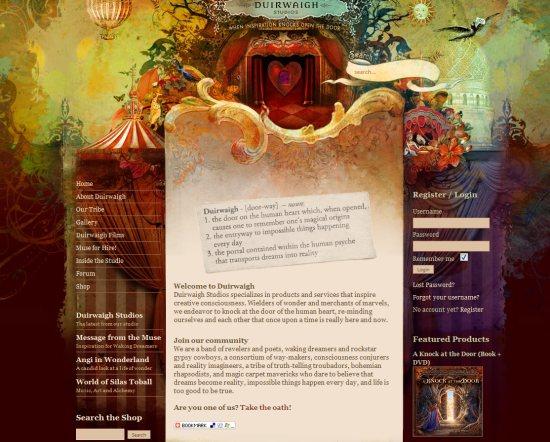 Duirwaigh Studios Is Home To The Creative Talents Of Husband And Wife Team Angi Sullin And Silas Toball. The Magic And The Colors Of Love Between This Beautiful Married Couple Is Reflected On Their Blog. Wonderful And Enchanting Design Of This Blog Takes You To A Fairy World As Soon As You Enter It.
Iemai: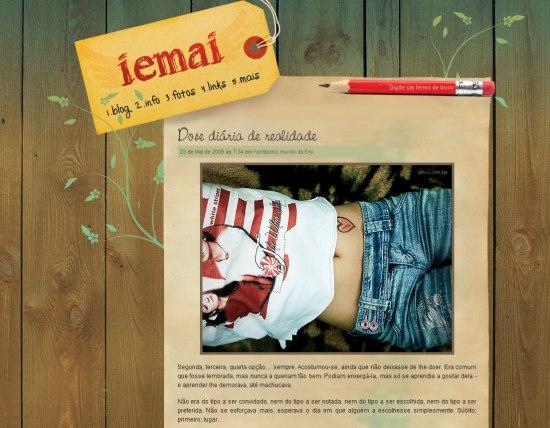 A Wonderful Blog Connecting A Community Of Artists And Those Who Are Devoted To Art. I Bet It Gives As Many Creative Inspirations As You Want.
A Crayon's Life: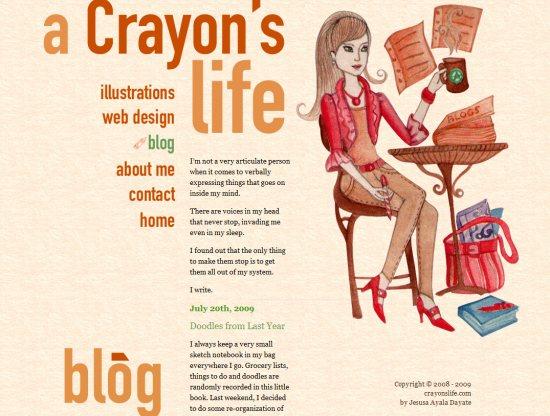 A Cool Blog Of Jesusa Ayala, A Art Director For A Mobile And Web Design Company. This Blog Pretty Much Talks About Visual Arts, Music, Literature, Art Films And Mountain Trails. Very Unique And Stand Alone Type Of Blog, We've Come Across In The Recent Times.
Sushi Monstr: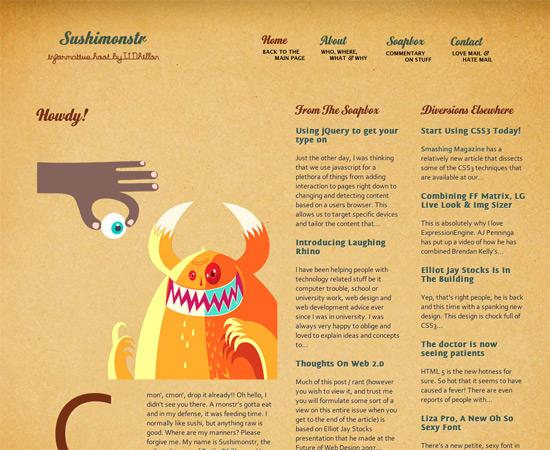 A Funnily Presented Blog By Terjin Dhillon From Australia Who Runs This Blog Quite Uniquely. Sushimonstr Is Created By Him To Share His Passions And Thoughts
Vikiworks Studio: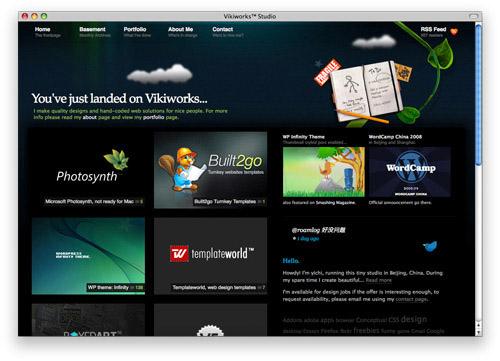 Another Beautiful Blog Of A Website Designer Who Believes In Keeping It Clean, Beautiful And Accessible.
Brown Bag Films:
Colorful And Chocolaty Blog Of A Irish Animation Studio. All That The Blog Has To Say Is That They Love Animation.
Veerle Pieters: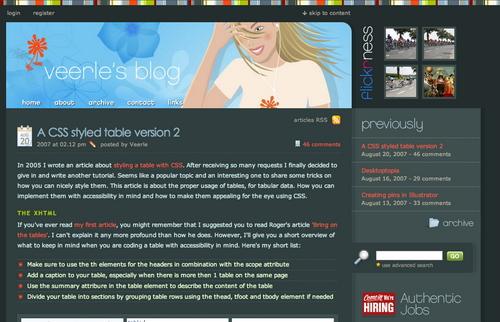 A Classic Design, Yet Beautiful. Veerle Makes Use Of A Dark Layout With Quite Colorful Scheme. The Position Of The Site Elements Are Extremely Well Thought-out.
Bearskin Rug: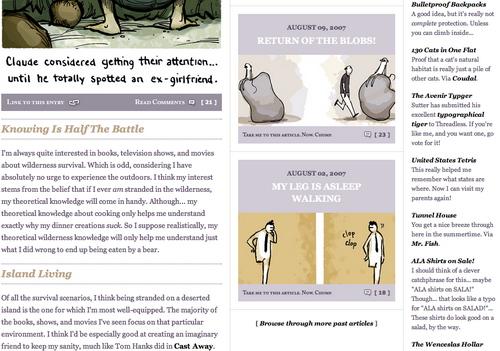 A Typical Weblogthat Looks Like An Illustrated Magazine. This Is The Movable Type.
Owltastic: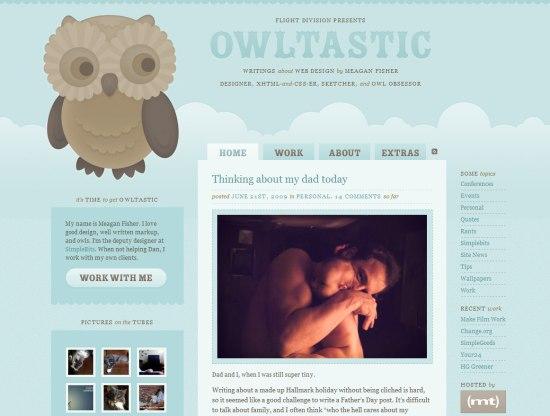 This Blog Is Owned By Meagan Fisher, A Young Designer In NY. Being A Lover Of Owls, She Showed It In The Presentation Of This Blog.
Cabana: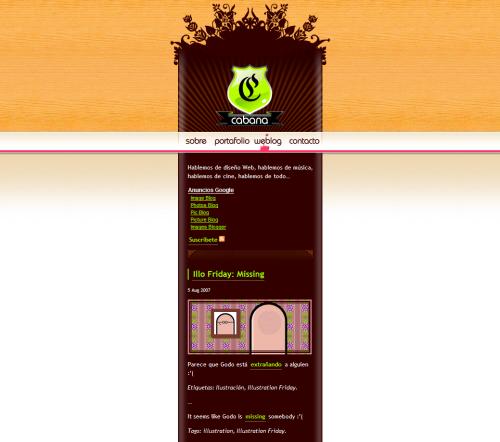 Sometimes, Using A Thin Layout Is An Interesting Approach.
Abduzeedo: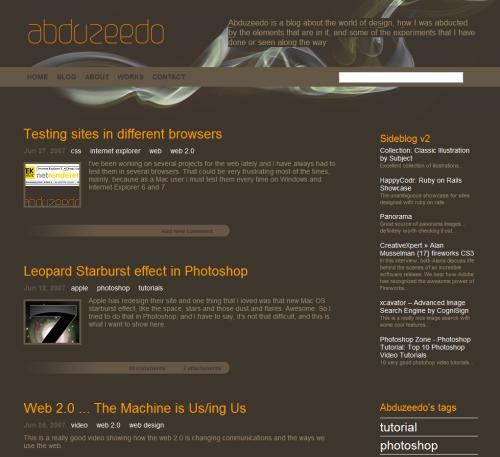 Stylish, Readable And Clean Site That Is Very Unique And Attractive.